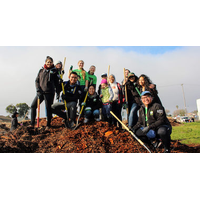 By Meredith Miller Vostrejs
In Fall 2020, California Volunteers - Office the Governor, launched the country's first statewide climate service corps, the California Climate Action Corps (CCAC). Harnessing national service models and a call to action, the CCAC provides Californians with opportunities to take meaningful action to combat climate change close to home. In partnership with communities statewide, this new initiative provides a variety of opportunities to engage individuals and organizations to address the climate crisis affecting California – and serves as a role model and roadmap for future climate corps across the country.
As an RPCV from California this program excites me, and I hope it catalyzes you. From wildfires to drought, climate change was a part of my childhood and now a reality my kids must confront. It takes all of us to work together to effect change. That is why RPCV4EA is excited to share this program with you, regardless of where you reside.
Below is a Q&A I had with Kif Scheuer, the Climate Action Corps Director. Kif was kind enough to meet virtually with the RPCV4EA Leadership Team and share the information below to reach out to the RPCV community. Read on to learn and take action!
Q: The California Volunteers, Office of the Governor created the country's first state-level climate service corps. Why was this a priority?
A: In order to realize our state climate goals, and protect and preserve California's vitality, far more Californians need to engage with climate change in work, home, and in their community. This is particularly true among our frontline communities, who are often at greatest risk from climate change, already bearing the brunt of environmental injustice, and have been historically left out of community development efforts.
At present, there are limited pathways to climate action engagement for Californians. To accelerate California's climate leadership and the potential for statewide action, we felt it was important to build organizing capacity on the ground. By supporting service opportunities, volunteer connections, and broad engagement campaigns with a focus on frontline communities, we can add capacity both within resource-strapped government agencies, and within more flexible organizations; such as non-profits, universities, businesses, and other leadership centers in civil society. Such support will catalyze greater engagement across California by facilitating new initiatives, fostering new partnerships, and motivating local action.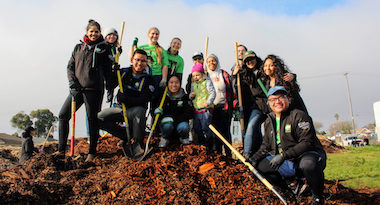 Q: Returned Peace Corps Volunteers (RPCVs) are familiar with service, via Peace Corps and many who also served in AmeriCorps. How is CCAC similar or different to these?
A: CCAC is an umbrella initiative that includes both AmeriCorps National Service opportunities (similar to Peace Corps service) and more general volunteerism and engagement opportunities. We think of climate action service within a broad "Service Pyramid" that provides meaningful opportunities for all Californians to engage in meaningful climate action in three areas: serving, volunteering, and taking action. For California Climate Action Corps, these activities include:
Serve
Catalyze community climate action and opportunity by supporting full-time (summer and 11-month) service positions, called Fellowships, focused on organizing climate projects and creating volunteer opportunities in communities around the state.

Promote student engagement in climate action by supporting in-school climate action service programming through university and school partnerships.

Increase pathways into, and participation in, the climate workforce by fostering professional development opportunities for Corps members.
Volunteer
Foster deeper and broader support for local climate action by creating a statewide hub to match organizations and projects with individuals who want to take climate action in their communities.

Expand private sector climate action opportunities by facilitating corporate "days of service" and employee climate action programs.
Take Action
Create momentum and widespread engagement with climate action as an everyday individual activity through a broad promotional campaign around top climate actions every individual can take, tracking participation, and celebrating outcomes.
"As RCPVs you all know the messy, complicated, and important work
that happens as communities work to address complex challenges like climate change.
We're not naïve that this is going to be easy…but we hope our efforts
can illustrate the power of service as a strategy and resource for fighting climate change. "
Q: How do you link service to climate change? Why is this important?
A: For too long climate has seemed abstract and far off in the future. Providing more hands-on ways to engage with climate solutions through things like tree plantings in their own community helps people connect more directly and builds connections between climate and other issues they may care about in their communities (air quality, food security, wildfire protection).
For our AmeriCorps members it also provides an incredible leadership opportunity as they get to spend a significant amount of time working with community members and organizations, and learning how to implement projects important to their community. They also build a strong network which we hope bolsters their ongoing involvement in climate work professionally and personally.
Q: What climate challenges and/or opportunities does the program address?
A: We are currently focused on 3 areas for the pilot Fellowship:
Expanding urban tree planting initiatives that lower home energy bills in low-income communities while also reducing extreme heat impacts.
Accelerating edible food rescue programs that address the state's food insecurity crisis while also reducing landfill emissions and,
Promoting wildfire prevention and mitigation through education and assistance in high risk and high need neighborhoods.
We are planning a summer program that will be more open (e.g., inclusive of things like energy, water, transportation) and for our volunteer engagement support, we are also open to any kind of climate project.
Q: One of your core principles focuses on disadvantaged communities. Can you explain how climate and equity are related, and why you are addressing this?
A: For a variety of reasons, we felt it was important to keep a focus on equity in our climate action work.
First, while all Californians face risks from climate change, many of our most vulnerable populations (including communities of color, tribal communities, low-income communities, and others) will suffer more. As a matter of climate policy, some of the most urgent projects and needs are those that necessarily serve the state's disadvantaged communities, which are disproportionately burdened with the instruments of climate pollution, such as power plants, refineries, electrical and gas infrastructure, as well as the impacts of its emissions, such as excessive heat, air and water pollution, etc.
Second, the environmental movement -- and its work to address climate change -- has too often ignored the voices of communities and people who are living on its frontlines.
Third, because the history of the federal Civilian Conservation Corps is fraught with the racist and segregationist policies in which it was created, we felt it was incumbent upon us as a 21st century corps to keep equity and justice at the top of our agenda.
Finally, as a matter of California politics, we were confident that grounding our project in community-led and community-designed goals would ultimately position the Corps for success.
Q: How can RPCVs in California engage with CCAC? And if possible, those outside of California?
A: Volunteer – visit our volunteer hub and look for opportunities, whether they are directly our activities or others, we want everyone to get involved in local climate action.
Host a Fellow – if you work in an and organization doing climate work, you could consider hosting AmeriCorps Fellows in the summer program (to be announced soon), or posting your volunteer needs to the hub.
Connect with our Fellows – if you are working in the environmental field and currently are around Stockton, San Jose, Fresno, Redlands, or LA we have 62 Fellows currently serving. Their community partners and projects might be of interest and they could welcome your assistance if offered.
Take action – look at our top-10 list (and many others like it and figure out the best way for you to take climate action at home and in your community. There's a lot to do and everyone who gets involved is part of CCAC in someway!
Q: How can they request CCAC Fellows or support CCAC generally?
A: We'll be putting out a call for Summer Host Partners soon. These will be 2-month positions, and nonprofits, public agencies, tribal communities can apply.
Sign up and list your volunteer opportunities on our hub – it's free and easy and hopefully we can then help drive interest in and awareness in your programs and activities.
We want to get the word out more broadly, so get in touch if you have ideas about how to promote climate action in California. In addition to helping share what we're doing, there are a lot of potential collaborations we could explore depending on what the organizations do. For example, if they are working in communities we are supporting, maybe there's some project alignment. If they have resources to share with our Fellows and community partners, we can talk about getting those out. CCAC is supported in part through a 501c3 nonprofit "California Volunteers Fund" I can put folks in touch if they want to know more about direct support.
Q: What are your hopes for the future of this program? Where do you see it in 5 years? 10 years?
A: We want help mobilize California's climate action movement. We want to help Californians to get more involved in climate action and want to help them see that service (volunteering, deeper service, talking action at home) is important and makes a difference.
In five years, we'd love to have hundreds of AmeriCorps alumni taking up leadership positions in the climate action field, helping communities small and large to tackle climate change. We'd like to have accumulated tens of thousands of individual outcomes that in aggregate to illustrate our collective impact. We'd like to see the results of our support across California communities where our partners and placement sites are stronger, more engaged, and better prepared to help their communities respond to climate change.
Ten years is a long way out, but nationally and globally the clock is ticking, so we need to see programs like CCAC replicated in as many communities as possible so there's a place and way for everyone to play their part.
Q: California is expensive (I live here, I know!). How is the Governor's Office supporting interested applicants financially to commit to a year of service in CA?
A: Fellowships include a stipend and an education award. Unlike other states, our Full-time service opportunities in CA are supplemented by state money. For the Fall, Fellows serving a full 11 months will earn $22,000 a year, along with a $10,000 education award. Full-time AmeriCorps members are also provided access to health care (if desired), and due to federal rules are more eligible for SNAP benefits as well. We understand that this is still lower than the ideal, but it's an investment the state is making to close the gap and we hope to increase our philanthropic and state commitments to raise that even further in the future.
Q: Is there anything else you would like RPCVs to know about CCAC?
A: As RCPVs you all know the messy, complicated, and important work that happens as communities work to address complex challenges like climate change. We're not naïve that this is going to be easy, or that we're going to get it all right out of the gate, but we hope our efforts can illustrate the power of service as a strategy and resource for fighting climate change and building a more just and equitable future.
----
Kif Scheuer, the inaugural California Climate Action Corps Director, is a solutions-oriented sustainability professional with a strong history of engaging diverse audiences in real-world climate protection efforts through innovative market-focused research and analysis, creative program design, effective project implementation, and compelling public advocacy and education.
Meredith Miller Vostrejs (RPCV St. Vincent & Grenadines 95-97) is the RPCV4EA Newsletter Editor.
---