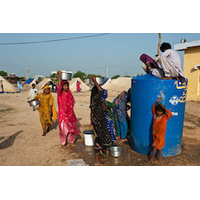 ADVOCACY ALERT!
Write to Congress About the Climate Displaced Persons Act, H.R.2826 and S.1335
Join members of Returned Peace Corps Volunteers for Environmental Action (RPCV4EA) in advocating for the Climate Displaced Persons Act, which was reintroduced on April 22, 2021.
The Climate Displaced Persons Act would establish a Global Climate Change Resilience Strategy and authorize the admission of climate-displaced persons.
You can read more about the Climate Displaced Persons Act here.
Go here to access easy-to- use click-to-send software to write to your Members of Congress and ask them to co-sponsor this legislation.
To make your message more impactful, please consider sharing your personal experience (from your time in the Peace Corps or otherwise) as it relates to climate change, displacement, and our global community.
"When it comes to combating climate change, we must all be in this together, as Americans and as global citizens living on this planet," said Representative Velázquez. "As the U.S. under President Biden works to reinsert itself as an international leader in the fight to mitigate climate change, we must not only find solutions around climate equity and climate justice, but recognize the need for security assistance and resettlement opportunities for climate-displaced persons. That is why on this Earth Day, I'm proud to partner with Senator Markey to introduce comprehensive legislation to protect the human rights of climate-displaced persons and establish a national strategy to address climate displacement."
If you have any questions about this advocacy campaign, please contact Peace Corps Action Team Co-Leader Brady Fergusson here.
---