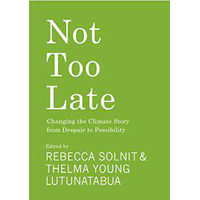 By Meredith Miller Vostrejs
"We are deep in an emergency. But it is not too late, because the emergency is not over. The outcome is not decided. We are deciding it now." This opening statement by Rebecca Solnit captures the sentiments of Not Too Late, Changing the Climate Story from Despair to Possibility edited by Rebecca Solnit and Thelma Young Lutunatubua (2023, Haymarket Books).
Through essays and interviews, global voices - including indigenous climate activists, organizers, and scientists - implore the reader to harness individual and collective power to shape our future for the better. The authors share honest insights, reflections, rage, and hope; and perhaps most importantly, a personal invitation to the reader to 'join us' for climate action.
It is easy to feel climate despair or anger. This summer alone has given rise to searing heat, fires, and floods that remind us that climate change is not a future threat but changing our lives and the planet right now. Yet we cannot let fear and terror immobilize us. As Solnit describes, we can focus on the house being on fire or be the firefighter; an emergency can depict loss or bring about transformation. And this is where Not Too Late excels: by bridging realism - recognizing climate facts and the science - with reimagining what the future holds and our roles in shaping it.
Solnit writes, "Hope is not optimism. Optimism assumes the best, and assumes its inevitability…Hope, like love, means taking risks and being vulnerable to the effects of loss. It means recognizing the uncertainty of the future and making a commitment to try to participate in shaping it." Changing the narrative from victim to change agent, with an emphasis on hope, is like a salve that motivates and inspires during a time of crisis.
"Hope, like love, means taking risks and being vulnerable to the effects of loss.
It means recognizing the uncertainty of the future
and making a commitment to try to participate in shaping it."
In one essay Mary Annaise Heglar stresses the importance of thinking beyond individual actions to what we can achieve as a collective, and moving beyond individual actions to ongoing climate commitment. The idea of making a climate commitment resonated with me; it feels like an open invitation to bring myself and unique contributions to the climate space. For example, in response to the question 'What can I do?' Heglar writes that it is simple: do what you're good at and do your best. She concludes, "We don't know what special thing you bring to the movement – only you know that. And we can't wait to see the magic that will happen now that you're part of our world."
The authors in Not Too Late reminds us that harnessing our individual and collective power for climate action, equity, and justice is not only feasible but our responsibility. Like our service in the U.S. Peace Corps, the outcomes are not guaranteed yet we engage and work collaboratively because it is the right thing to do for ourselves, our communities, and the planet. The future is of our making, and the actions we take today will inform what is to come.
The Returned Peace Corps Volunteers for Environmental Action (RPCV4EA) invites the Peace Corps community, friends, and allies to join us as we work for climate solutions. Learn more about the RPCV4EA community and how to get involved at www.rpcv4ea.org. Contact us at info@rpcv4ea.org to share your contributions and collaborate.
Learn more about Not Too Late here.
The Yale Climate Connections (not affiliated with RPCV4EA) has selected Not Too Late for their summer virtual book club. Learn more and sign up for their virtual book club conversation on September 5th here.
---
Meredith Miller Vostrejs (RPCV St. Vincent and the Grenadines, 1995-97) served on the RPCV4EA Leadership Team and was editor of the RPCV4EA newsletter from 2020-2023; and served as a National Peace Corps Associate Affiliate Group Network Forum Representative from 2022-2023. As a global health and development consultant, she is increasingly interested in the impact of climate change on health.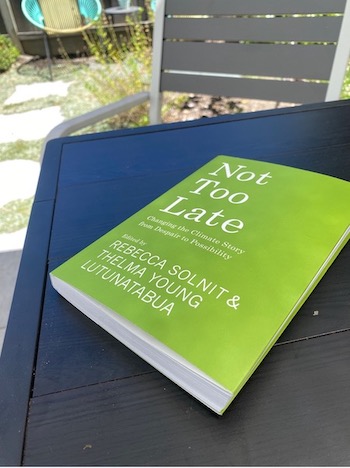 ---