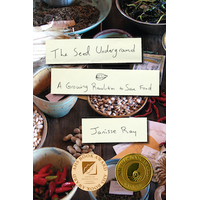 By Ellen Arnstein
Once upon a time, as a Peace Corps volunteers in Bolivia, I played a drinking game where the players named as many things they could think of that fit within a category. The first person who could not think of something in that category would drink. Only one particular round of this game has stuck with me all of these years. The category was 'types of potatoes" and it was a loooong round. In the Andes there are many, many varieties of potatoes some of which I miss greatly (oca) and some which I wouldn't mind never crossing my plate again (chuño). But how many of us can exhaustively list types of tomatoes, pole beans, and watermelons?
In The Seed Underground: A Growing Revolution to Save Food, Janisse Ray writes about the increasing loss of diversity in food crops, the struggles to maintain heirloom plants in the face of industrialized agriculture, and the community of those who grow their own food. As in her other books, Ray injects a hefty dose of memoir as she reflects on her own family's seed- saving traditions and the heritage and history associated with many heirloom plants. The book allows us into the life of a Georgia professor obsessed with tomatoes, the Sweet Potato Queen of North Carolina, and a Vermont poet who only plants the prettiest of beans among a cast of characters portrayed lovingly as experts in a Renaissance of place-based food traditions.
Ray teaches the reader how to save tomato seeds, hand-pollinate squashes, and save your best corn. She does this all while fighting against genetically modified crops, pesticides and herbicides, and just the isolation involved in supermarket shopping. I'm not a saint – I buy bananas and grow hybrids (and honestly didn't take that much enjoyment from laboring in my garden) and forgot that purple potatoes even exist –but I think we can all use a reminder of the potential and possibility of our right to healthy and culturally appropriate foods grown locally and organically.
"I think we can all use a reminder of the potential and possibility of our right
to healthy and culturally appropriate foods grown locally and organically."
Also by Janisse Ray:
Ecology of a Cracker Childhood recounts Ray's unique experience of growing up in a Georgia junkyard by weaving family history with lyrical descriptions of the quickly disappearing longleaf pine forests. It. Is. Gorgeous. Then follow it up with Wildcard Quilt which describes her move back to Georgia and her process of reacquainting herself with the region's natural history. Also. Breathtaking. (Full disclosure: I loved these books more than The Seed Underground.)
If you are interested in other seed-saving books or memoirs about eating local, try:
Second Nature: A Gardener's Education by Michael Pollan in which there is much complaining about how hard gardening is, but more largely a meditation on our relationship with Nature with a capital N. The writing is as fabulous as we expect from Pollan and the concepts were interesting – even if I didn't agree with his personal philosophies.
Animal, Vegetable, Miracle by Barbara Kingsolver in which the acclaimed novelist embarks on a challenge to eat only food she has grown herself or purchased from local farmers for a year. The teensiest bit smug, the book nonetheless presents some fascinating information about our local food systems and how they are broken.
Ellen Arnstein was an Environmental Education volunteer in Bolivia from 2007-08. She is now a certified arborist working for a Pacific Northwest conservation district. In her spare time, she plays the ukulele poorly, runs slowly, and reads a ridiculous amount of books (mostly about trees). Follow her on twitter @Lenni825 or check out her travel musings at lennisblog.blogspot.com
---