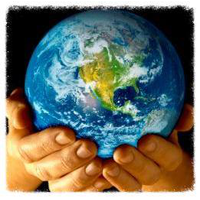 Bringing Advocacy Action to the Environment: Webinar Link
Did you miss the webinar on October 9, Bringing RPCV Advocacy to the Environment? Read on to get the details, and listen to the recording to find out what actions you can take.
The Returned Peace Corps Volunteer (RPCV) network is deeply engaged in advocacy for Peace Corps, with the powerful leadership of the National Peace Corps Association (NPCA). Many affiliate groups take that to other levels, with advocacy on issues covering the environment, health, refugees, multicultural understanding, LGBTQ, and more at national and local levels. In addition, a wide number of individuals have formed nonprofits, advocacy groups, or become involved in national campaigns on these issues and more. Service work is not a new idea for RPCVs. Once a volunteer, always a volunteer.
We are pleased to have hosted an NPCA-supported webinar on October 9, 2019, moderated by Brady Fergusson (RPCV Kiribati 2006-2008) and presented by Brett Cease, Citizen's Climate Lobby (CCL) Volunteer Education and Engagement Coordinator.
The webinar was a discussion of our work with Citizen's Climate Lobby and their laser-focused effort to combat climate change through legislative action in the U.S. Congress. The House bill is H.R.763, and is known as the Energy Innovation and Carbon Dividend Act (EICDA). Watch the webinar and get an overview of other carbon reduction legislative acts that are underway, for example, the Green New Deal and its variations. How can RPCV individuals and groups get involved? Why should we?
Brett's expert presentation was followed by a Q&A session. Brady presented action steps to engage your NPCA affiliate group in advocacy work for the environment:
Ask your Board to endorse H.R.763.

Contact Brady to let him know when that has been done.

We will take it to the next levels of engaging NPCA and all affiliate groups, and spread the message to the RPCV community.
We need to step up the pressure on Congress to take climate change seriously.
In addition to listening to the recording, you may be interested in reviewing this information referenced in the presentation itself:
If you have questions, we encourage you to contact us!
For the planet,
Brady Fergusson, bradyf585@gmail.com
Kate Schachter, info@rpcv4ea.org
---