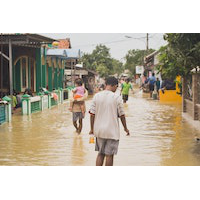 By Meredith Miller Vostrejs
According to the UNHCR, 82.4 million people were forcibly displaced worldwide at the end of 2020 due to persecution, conflict, violence, and human rights violations. Climate change, which has been referred to as a 'threat multiplier,' exacerbates the drivers of insecurity including social tensions and conflict and contributes to increasing numbers of displaced people globally.
Generally, the displaced include three categories: 1) internally displaced people (48 million) who are fleeing in their own country and have not crossed a border; 2) refugees (26.4 million) who have crossed an international border seeking safety; and 3) asylum seekers (4.1 million) who left their country and seek sanctuary from persecution. Additionally, 3.9 million Venezuelans are displaced abroad.
Children comprise 42% of all forcibly displaced people. UNICEF recently released the Children's Climate Risk Index showing where children are most vulnerable to climate and environmental related hazards. The report cites climate change as the greatest threat facing children and young people, states 1 billion children are at 'extremely high risk' of the impacts of climate change, and shows a link between climate change and displacement.
Increasingly, people are displaced for longer periods of time due to protracted crises in their country of origin and limited opportunities for resettlement elsewhere. Regarding international displacement, the majority of the displaced come from Syria, followed by Venezuela, Afghanistan, and South Sudan. Turkey hosts the largest number of refugees (mostly from Syria), followed by Colombia (hosting Venezuelans). The COVID-19 pandemic has limited cross-border migration and resettlement, yet the number of forcibly displaced continues to grow.
Migrants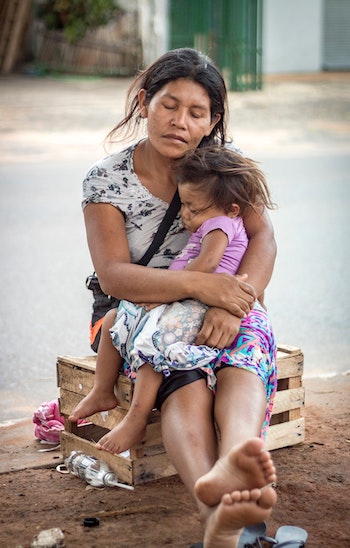 Note the forcibly displaced are distinct from migrants, who flee their homes for various reasons such as poverty, work, or family. Currently the number of migrant encounters at the U.S.-Mexico border are at a 21-year high, including record numbers of unaccompanied minors. Most of these migrants are from Mexico, El Salvador, Guatemala, and Honduras. They are fleeing poverty, violence, and climate-related disasters such as hurricanes and drought that increase economic and food insecurity. The U.S. response to migrants at the border has been challenged by civil society organizations and others as not treating migrants fairly, limiting opportunities for people to seek asylum in a timely manner, and violating international human rights law.
Climate Refugees
Climate change exacerbates displacement, particularly for people who live in climate "hotspots" and have limited resources to adapt to the changing environment. For example, climate disasters due to extreme weather such as heat, droughts, and floods leave many vulnerable and forced to flee, as evidenced with the hurricanes in Central America and environmental degradation in the Sahel. Climate-related events such as water scarcity increase social and political tensions and contribute to conflicts as seen in Syria and Yemen.
Currently, climate-displaced people do not have formal protection under U.S. or international law. The term "climate refugees" is not an official category of the displaced, yet it is an increasingly recognized term referring to people affected by climate change-related disasters. These include droughts, floods, and extreme weather events. Sea level rise is also a factor disproportionately affecting coastal communities in lower-income and small island countries. Estimates predict one billion people may be displaced by climate change in the coming decades, yet the global response has been limited - and slower than climate activists demand.
In 2018 the United Nations adopted the Global Compact for Safe, Orderly and Regular Migration which states that climate change and environmental degradation are one of the factors causing large scale movements of people, and governments should work to protect climate refugees. In 2020, the UN Human Rights Committee ruled that that countries may not deport individuals who face climate change-induced conditions that violate the right to life, in response to an asylum complaint filed by an individual from Kiribati.
Global Climate Change Resilience Strategy
Closer to home, in February 2021 President Biden issued an Executive Order titled Rebuilding and Enhancing Programs To Resettle Refugees and Planning for the Impact of Climate Change on Migration. In April Senator Edward J. Markey (D-Mass) and Representative Nydia M. Velázquez (NY-07) reintroduced legislation that would establish a national strategy to address global climate-driven displacement and support climate-displaced persons. The proposed legislation to establish a Global Climate Change Resilience Strategy (S.1335) would create a U.S. resettlement pathway for climate-displaced persons; establish a global climate change resiliency strategy to guide U.S. government policy and programming; create a government-wide Coordinator for Climate Resilience position; and provide training for Foreign Service officers in climate change resilience.
"We are unfortunately a world leader in contributing to this climate crisis, and we have a moral obligation to be a world leader in addressing the ensuing humanitarian crisis. The climate crisis disproportionately affects women, children, Indigenous people, and people of color, and we must take the necessary steps to support those who are forced to leave their homes due to a changing climate," said Senator Markey.
Act: Support Climate Displacement and Global Climate Change Resilience Strategy
The Returned Peace Corps Volunteers for Environmental Action (RPCV4EA) invite you to advocate for climate refugees and support this legislation. The Climate Displaced Persons Act would establish a Global Climate Change Resilience Strategy and authorize the admission of climate-displaced persons. Ask your Members of Congress to co-sponsor this legislation in both the House (H.R. 2826) and Senate (S.1335).
Go here to access easy-to- use click-to-send software to write to your Members of Congress and ask them to co-sponsor this legislation. To make your message more impactful, please consider sharing your personal experience (from your time in the Peace Corps or otherwise) as it relates to climate change, displacement, and our global community.
Listen: September 25 Panel on Climate Migration
Join the Peace Corps Connect 2021 Conference panel Climate Change and Migration: policies, people and proposed solutions, sponsored by RPCV4EA and the Peace Corps Community for Refugees (PCC4R). More details about the conference and registration info can be found here.
All photos from Unsplash.com
Meredith Miller Vostrejs (RPCV St. Vincent & Grenadines 1995-97) is the RPCV4EA Newsletter Editor.
---