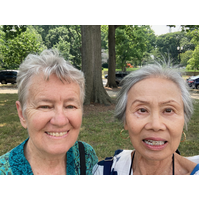 By Kate Schachter
Since Citizens' Climate Lobby (CCL) started in 2006, it has been laser-focused on a price on carbon as the best way to address CO2 impact on our climate. As their efforts have steadily raised awareness in D.C. about the urgency of climate action, they now lobby for issues like clean electric energy, permitting reform, and healthy forests, as well as a price on carbon. In addition, many chapters take on additional passions and challenges that need to be addressed through citizen advocacy to our legislature - city, county, state or federal. For example, we are working with Rep. Nydia Velázquez (D-NY7) on the Climate Displaced Persons Act for reintroduction to the current Congress. It's a lot to learn, but CCL staff puts together an excellent training program with speakers, panels, and workshops at the annual conferences, June and November. To catch up on some of the terms (how many times have you heard the words carbon+border+adjustment+mechanism strung together – or its acronym CBAM?!) and gain understanding, here is access to the whole list of recorded events.
This year was the fourth conference in DC that I've attended as a member of the CCL Madison chapter, as well as our own CCL Peace Corps Action Team (PCAT). I've also participated in several virtual conferences during the height of COVID. Brady Fergusson and Mike Roman co-lead the PCAT. Consider joining to amp up your own knowledge about how to advocate in our democracy for legislative solutions to climate change.
One of the interesting challenges of being involved in a non-profit organization that is spread all over the country is that we rarely have a chance to meet in person. This conference helps bridge that divide. Barbara Jue has been a member and our Secretary since April 2020, but we've never met in person, only over Zoom. We took the opportunity to visit Peace Corps Park (see photo) and had lunch the day before the conference began. Our PCAT table was a good place to touch base again, in the midst of almost 1,000 attendees at the conference.

Let me close with one of my several personal 'aha' moments from this year. Since 1979 I have been strongly anti-nuclear technology (think...Three Mile Island). I demonstrated in Madison. I took a chartered bus of the "No Nukes of the North" to Washington DC to demonstrate with my two children, ages 8 and 6 at the time. I could never shake the eerie feeling of pending disaster, the reminders of "duck and cover" as a schoolgirl. That is, until this conference and the "new nuclear" of small-scale, green power generation. Granted, I am still a skeptic, but 'nuclear' is no longer a dirty word. After talking with Isuru Seneviratne at the Nuclear Energy Action Team (NEAT) and listening to the presentation at the end of the day on Monday, I am ready to listen with an open mind.
---