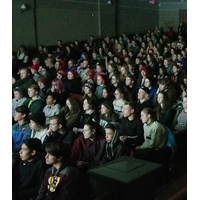 By Shawna Crocker
In 2004, I was in Washington, D.C. for an environmental education meeting, and it was suggested that I check out the DC Environmental Film Festival. As an RPCV (Swaziland, Africa '85-'87), I chose a film- Flip Flop Flotsam- at the Museum of African Art. I was impressed at the number of people wanting to see environmental documentaries, and as a life-long and professional science teacher and environmental educator, I realized that we were missing an opportunity to reach a lot of people who didn't attend our hikes, programs, workshops, classes and other environmental programs. But people do go to movies! And film has the power to motivate people to change behaviors. I came home and with a small group of passionate colleagues, started the Colorado Environmental Film Festival (CEFF).
Our festival is in Golden, CO, in the foothills of the Rocky Mountains, in February-a slower time for a tourist town. Our audiences are less likely to be out in the environment, and perhaps more likely to come inside to see and learn about it on a screen. It usually snows at some point in our three-day event-a challenge we expect! This year, the pandemic removed this challenge as it provided others. We have had to learn how to be virtual, so snow won't prevent viewers from attending, and people can watch from anywhere. As our films come from all over the world, so now so can our viewers! The festival this year is ten days long, with 70 films.
As our films come from all over the world, so now so can our viewers!
The festival this year is ten days long, with 70 films.
Along the way, we created CEFF for Kids. We noticed that our audiences were small on Friday mornings, so we invited teachers to bring their students for a free program of films by or for youth. This brings 300-400 local youth to watch and participate in Q & A's with our young filmmakers and directors. In this virtual year, we already have 400 students just from Colorado registered for the free unlock codes (tickets for 1 ½ hour of films) we will provide, along with discussion questions. We budgeted $500 for 500 students and teachers but this may not be enough! We are suggesting that donors contribute $5-$10 to allow us to serve 5-10 additional youth-from anywhere. You may go to https://ceff.net/donate/ and specify "CEFF 4 Kids" in the special instructions box. Be sure to tell teachers in your communities about this opportunity found at https://ceff.net/c4k/.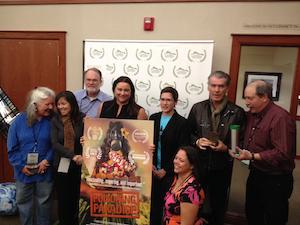 Pierce Brosnan and his wife Keeley with their film, Poisoning Paradise in 2018
Many of the films from our previous 5 festivals are on our Watch Now pages at www.ceff.net. Previous CEFF 4 Kids films are labeled in green. Enjoy! The 2021 program will be posted in mid-January. Save the dates: February 12-21!
Advocate, Educate and Collaborate aligns nicely with our CEFF mission to Inspire, Educate and Motivate!
Shawna Crocker served in Swaziland from 1985-1987 as a secondary science teacher. She resumed her science education career upon returning, and recently retired from the Colorado State Forest Service where she coordinated the state Project Learning Tree program for 25 years.
---