Cover photo: Mt. Tabor Park in Portland, Oregon, is situated on a volcanic cinder cone and was established in 1909.
by Maureen Smith Martindale
It's summer: time to get out in the woods, the wild, the water, and warmer weather. Whatever destination you choose, protecting the environment and preventing further damage to our climate is paramount, and possible. To help guide you, we found four Returned Peace Corps Volunteers who now work to preserve natural or historic spaces: from local parks in Portland, Oregon, to historic orchards planted by pioneers in Utah, and the original Wright Brothers airfield in Ohio, to last but not least, Yosemite National Park where Buffalo soldiers served as some of the first park rangers.
They all agree on one notion: Get out and enjoy nature, and help others do the same. You don't have to travel far, and supporting green places can make them more accessible to everyone, regardless of socioeconomic status. Once there, follow some simple principles:
Consider your carbon footprint when traveling there. Bicycle, take public transport, or carpool if possible. Don't overlook local parks.

Ask about volunteering to help remove invasive species, plant native species, or clean up litter. Parks are understaffed and underfunded.

Support local neighborhood parks and public green spaces.

Help promote diversity and access in wild spaces for underserved groups.

Leave no trace: no litter, no campfire, no remnant of your human presence.

Park and camp only in designated spaces, and stay on the trail.
The National Park Service has tips both for finding parks and for planning it like a park ranger. Of more than 400 national parks, a large portion are historic sights. Many state and city parks also have extensive information about visits, trails and resources available online. You can even do a Google maps search for "parks near me."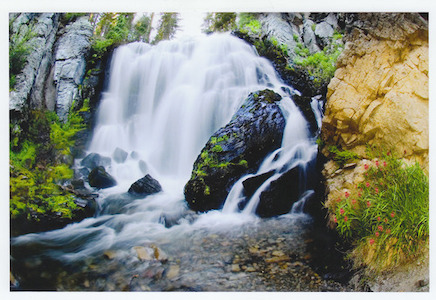 Kings Creek Falls is in Lassen Volcanic National Park, Mineral, California. Source: Judi Richins
At Portland Parks and Recreation in Oregon, Bryan Aptekar has worked for about 20 years, is now a land stewardship operations coordinator, and formerly was an environmental education specialist in the Peace Corps in Poland from 1996 to 1997. The Portland park system includes numerous natural areas with pedestrian and bike trails, as well as many community gardens, arts centers, two arboretums, several rose gardens and golf courses, and ball fields and basketball courts. It hosts programs in fitness, environmental education, volunteer stewardship and urban forestry. The city also has miles of protected bike trails and lanes.
"The local parks focus on getting people outside within the city, particularly underserved folks that don't have the capacity to drive to Yosemite or places outside the city," said Aptekar. He stressed how municipal parks form a critical part of city infrastructure and urban forests provide benefits for climate resiliency. "Getting outside is good for the soul. There are scientific studies showing (nature) is healthy for kids and brain development. Particularly during these times of COVID lockup. The value of being able to get outside has been so clear. Pushing the stroller with the kids, laying on a blanket reading a book, having a picnic, just knowing (that green space) is nearby."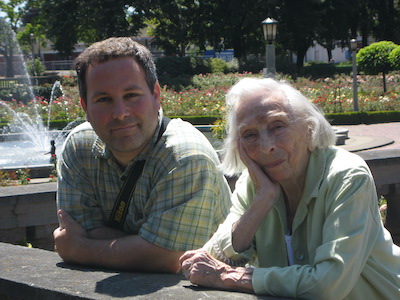 Bryan Aptekar and his grandmother relax in Portland, Oregon's Peninsula Park, established in 1909.
Aside from national and local parks, outdoor recreating is also possible at public lands of the United States Forest Service, National Wildlife Refuge System and the Bureau of Land Management (BLM) Aptekar said. However, each agency has different missions, some more environmentally protected than others, noted Aptekar, who previously worked for the Environmental Protection Agency and National Park Service. Some BLM lands are open for mining, hunting, grazing and resource extraction. And national and state public lands are not always nearby.
"Parks down the street matter," said Aptekar, who studied abroad in Norway and New Zealand while completing his master's degree in community and regional planning from the University of Oregon. "People forget when there are fights about land use, parking and housing. They say, 'let's just build on that open space,' as if the land is empty. But it's so important to advocate for local open spaces and natural areas (that are) easily accessible to everyone."
In the Capitol Reef National Park in Torrey, Utah, Mara Rembelski is a biological science technician who helps manage historic orchards located within the park. "Capitol Reef is really unique because we have a federally designated historic district and an orchard complex originally established by Latter Day Saints pioneer settlers," beginning in the 1880s, said Rembelski, a former Peace Corps community gardening and agroforestry volunteer in Gambia.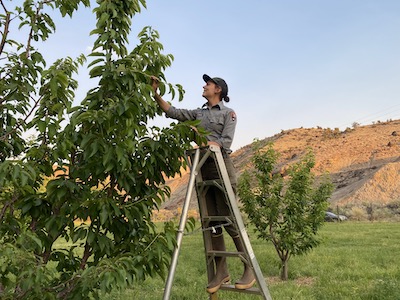 Mara Rembelski examines a Utah Giant cherry tree at Capitol Reef National Park.
The orchard maintains heirloom varieties of apples, apricots, cherries, pears, peaches, plums, with historic methods of pruning and irrigation. The irrigation method is a flood and furrow system that diverts water from the Fremont river. But the orchards and other parts of the park face increasing risks of a hotter, drier climate, and challenges of balancing environmental needs with public access.
Parking vehicles on roadsides or walking off trails can damage fragile resources such as the biocrust, a very thin, living skin-like upper layer of soil that hosts vital microorganisms and takes a long time to form. "We have the sometimes contradictory obligation both to protect the landscape and resources but at the same time make these landscapes and resources accessible for the public," said Rembelski.
While a graduate student, Rembelski did research on how fire, drought and invasive plants can damage or alter soil properties, native plant communities, and carbon cycling. At the University of Arizona, she earned a bachelor's degree in environmental sciences, then completed a master's in Natural Resources and Environmental Sciences at the University of Illinois at Urbana-Champaign. In the Peace Corps, she learned more about traditional methods of fruit and vegetable production in her village in Gambia, but after three months, all volunteers were evacuated in March 2020 due to COVID.
In Utah, and everywhere, it's important to involve local communities in conservation efforts, Rembelski said, and to increase diversity by having conversations about public lands and natural resources with individuals face to face. The park in Utah involves local descendants of the pioneer families who planted the trees. "Going out and appreciating your public land firsthand is incredibly important," she said. "As a country and a society, we have to advocate for the preservation and conservation of these lands."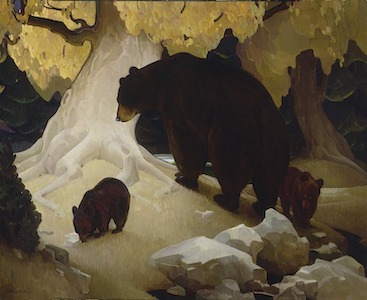 Fall in the Foothills, oil on canvas, by W. Herbert Dunton. Source: Smithsonian American Art Museum, Transfer from the U.S. Department of the Interior, National Park Service
In Yosemite National Park, Shelton Johnson, a well known national park ranger since 1987, has long advocated for people of color to reconnect with wilderness and natural spaces. Johnson was also a ranger at Yellowstone and presented interpretive programs in many other parks. He grew up in Detroit and taught English during his Peace Corps service in Liberia from late 1992 to early 1993, but left early due to illness.
"As a society we need to rekindle an indigenous relationship with the earth, and restore a sense of the sacred in all of our dealings with creation," Johnson wrote on his LinkedIn page. According to Outside magazine, he even spoke with President Obama about the need for greater diversity in national parks, and he convinced Oprah Winfrey to go camping.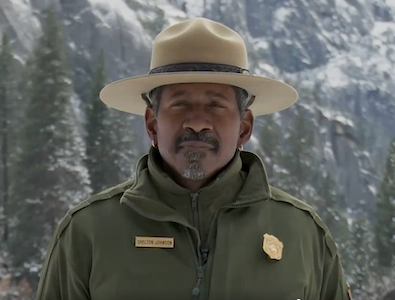 Ranger Shelton Johnson speaks about Buffalo soldiers who protected national parks. Source: Yosemite National Park
One of Johnson's passions is teaching about the Buffalo Soldiers, African Americans who served primarily on the Western frontier and sometimes fought Native Americans after the Civil War. Johnson, who in 1981 earned a bachelor's degree in English literature and poetry from the University of Michigan, wrote Gloryland, a 2010 novel about a Buffalo soldier whose troop was assigned to protect Yosemite National Park.
Johnson spoke in a Youtube video about nearly a dozen Buffalo Soldiers who were some of the earliest rangers assigned in the late 1800s and early 1900s to protect newly formed national parks, including Yosemite and Sequoia. When appointed, the Buffalo soldiers staffed entrance stations, and "had to be ambassadorial" when they told white visitors to drop their guns or take out bullets to prevent poaching, he said in the video. He also explained how they got their name: "The Plains Indians noticed that the hair on their heads was just like the matted cushion between the horns of the bison."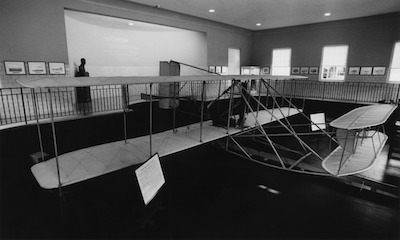 The Wright Flyer III was piloted by the Wrights in 1905. Source: National Park Service
At Dayton Aviation Heritage National Historical Park in Ohio, Ed Roach has been a site historian and resource manager since 2003, and joined the National Park Service shortly after teaching English during the Peace Corps in Ukraine from 1998 to 2000. The park features the airfield where Wilbur and Orville Wright experimented in 1904 and 1905 to launch, land, and inadvertently crash their flying machines. Roach said the airfield used to be a cow pasture owned by an area banker who told the brothers, "You can use it for free, just get all the cattle and horses moved into (a different) area when you're out there."
"Here you have arguably the birthplace of practical aviation," said Roach, who holds bachelor's and master's degrees in history. "Even if we're not talking about nature, you're still experiencing something historically relevant to the development of the country. We're 118 years past Wright (Brothers) first flight and we've gone from their contraption of wood and fabric to these big" aircraft, some visible just next door at the Wright-Patterson Air Force Base. Roach wrote a book, The Wright Company: From Invention to Industry chronicling how the brothers went from their first planes to sophisticated manufacturing methods.
The park is easily accessible via bike or public bus line, with no car needed, and thus, a low carbon footprint. The park website says it is also home to "the world's first practical airplane," the fourth location of the Wright Brothers bike shop, and various monuments and historic homes, including that of Paul Laurence Dunbar, a well known African American poet who wrote about plantation life, drawing from his parents' experience as former slaves.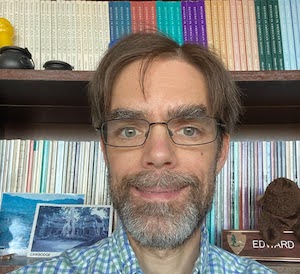 Ed Roach earned a bachelor's degree in history from Moravian College and a master's degree in history from Indiana University of Pennsylvania.
About a half hour away from the park in Dayton, the Charles Young Buffalo Soldiers National Monument commemorates the life of an escaped slave who became the third African American graduate of West Point military academy, and served as a Buffalo soldier who was appointed superintendent of Sequoia National Park.
The park and monument are important and some of many historic sites under the umbrella of National Park Service, Roach stressed, even though they are small in comparison to Gettysburg National Military Park, where the major 1863 battle was fought in the Civil War, not far from where Roach grew up in Pennsylvania. "I've always grown up around history," he said.
---