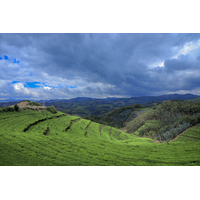 By Tim Hartigan
One of the blessings of Peace Corps is that it introduces you to friends that you would never have met, places you would have never traveled to, new ways of living and interpreting life, and new knowledge. I knew that I had one more major adventure left in my 57-year-old knees, so when the door opened to Peace Corps Response in Rwanda last year, I gladly walked through. My first six months here have been as fulfilling as my two years as a PCV in Thailand over three decades ago.
I work as a PCR volunteer in eastern Rwanda at a teacher training college, 1 of 16 in the country. The Rwandan educational system has a strong British influence, and here "college" means upper secondary school. In the U.S., the corresponding grades would be sophomore to senior years in high school. Rwandans train these students for three years and then they become pre-primary and primary school teachers without having to go to university.
"One of the blessings of Peace Corps is that it introduces you to friends that you would never have met,
places you would have never traveled to, new ways of living and interpreting life, and new knowledge."
Our school day is long and the education is rigorous. The 10 forty-minute periods stretch from 8:45 a.m. to 5 p.m. There are morning and afternoon breaks, plus an hour or so for lunch. The curriculum covers topics that I didn't study until graduate school such as the foundations of education and teaching methodologies. This week, my 11th graders and I discussed an article from our textbook about Maslow's Hierarchy of Needs and how it relates to education.
Our college of approximately 500 students is residential. It is located 2 km north of the town of Kabarore, but students cannot leave campus to go to town to buy supplies – they were supposed to have purchased all pens, notebooks, toothpaste, etc. that they would need before the term began. The campus is also small – we have two dormitories, an academic building, an administration building and a dining hall along with some areas for sports on a fairly small plot of land, which I would guess is about 10 acres.
Rwanda and her people have many arrows pointing in the right direction, but probably the best thing is that Rwandans constantly talk about their shared values and try to put them into practice. One of the beautiful traditions of Rwanda is 'umuganda' – community service and development – held on the final Saturday of each month. This involves some sort of project that neighbors do to benefit the community you live in or a specific person. For instance, you might dig a ditch to help drain away water from the road or you might do something for a poor person, such as make mud bricks that they can use to build a room onto their house. While most Peace Corps Volunteers do their umuganda in the place where they live, I do mine at my school.
"One of the beautiful traditions of Rwanda is 'umuganda' –
community service and development – held on the final Saturday of each month."
There is good news about the environment here. Rwanda has several highly-regarded national parks and there are strong conservation practices in place to protect vulnerable species, like the mountain gorilla. Rwanda is the tidiest country I have ever been to and one of the reasons it's so clean is that disposable plastic shopping bags are banned here. While walking to school shortly after I arrived at site, I threw away an apple core into a field and was admonished by a girl walking to school. Rwandans are serious about not littering and everyone does their part to keep the country clean.
There are several issues that affect Rwanda's environment. The first one is population pressure. Rwanda is the most densely populated country in sub-Saharan Africa with about 503 people per square kilometer. I live in a rural area and there are people everywhere! There are 13.2 million Rwandans, about two-thirds of whom are under 30. To give a U.S. reference, Rwanda is approximately the size of Vermont but the Land of a Thousand Hills has over 20 times the population of The Green Mountain State.
A second issue I've noticed is that use of renewable energy sources is not widespread in Rwanda. When I arrived at site, I saw the roofs of the buildings at the college were situated perfectly for solar panels. However, the school does not have them and only 14% of private households are getting their electricity from solar in sunny Rwanda. When biking home from school with a co-worker, I asked him why I saw small solar panels on some houses north of the town and only on one side of the road. He said that those houses have yet to be wired for electricity. Rwanda does have a plan to provide electricity to all homes by next year.
Another issue that looms large here is that the college uses firewood to cook the food for the 500 or so students and staff. That means firewood cooks breakfast for the students, tea for the tutors' tea break, lunch for everyone and dinner for the students. TTC Kabarore's principal, Gilbert Manishimwe, said that the cost of firewood was approximately $11k per year. That's a large sum of money here, and this cost will only continue to go up as firewood becomes scarcer.
A final environmental issue that I notice is that the use of single-use plastics is increasing as Rwandans consume more processed food, such as cookies and soda pop. These wrappers and bottles can end up in farmers' fields. This is a paradox to me because Rwandans don't litter. One 'umuganda' Saturday, while others were improving a road outside the gate of the college, I said "Enough is enough!" and went out into our school's fields. (Yes, our school is also a working farm, supervised by a Catholic nun.) One student was ordered to work with me on trash removal and we filled two bags. The litter we found in the field included shards of tile, alcohol bottles, surgical masks, but the majority of what we picked up was single-use plastics, which, unfortunately, were probably burned.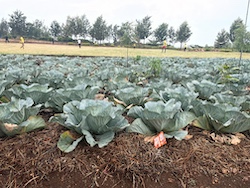 Cabbage patch at Kabore
I hope to do three projects before my time is up at Kabarore Teacher Training College. First, I'd like to organize a field trip for students to nearby Akegera National Park, where the students can observe the fauna and flora, and then they can spruce up our school's walls with their artwork. Second, my school has asked for a chicken coop. They would like to use the eggs to add protein to the students' diet. Finally, I and others at the college would like to do something with renewable energy to mitigate the school's use of firewood, but I'm not sure what that will be yet, and I'm open to suggestions.
I'd like to end where I began – not with a note about the environment but rather about Peace Corps. Last year I was teaching at a university in Thailand, where I originally did my Peace Corps service from 1989 – 1991 as a high school English teacher. Through Facebook, I have stayed in touch with my former colleagues. While on a break from my university in Bangkok, I popped up to the Mutmee Guest House in Nongkhai, a favorite hangout of PCVs back in the day. As my site was not too far from there, the teachers from my school decided to pick me up for lunch and take me on a surprise visit to our long-retired principal, Mr. Saeng Sidhala. We had a great visit with him and showered him with food and gifts. As the Rwandans do, the Thais take wonderful care of their children and elderly. The picture below shows that the idea behind the Peace Corps – people from different cultures creating friendships through development work – can be a foundation for world peace.
Disclaimer: This article is the work of the author. It does not represent the views of the Peace Corps or the U.S. Government.
---------
About the author: Tim Hartigan is a Peace Corps Response Volunteer from Buffalo who is currently serving as a teacher trainer in Rwanda. He is writing a blog about his experience at timhartigan.com/blog.
---