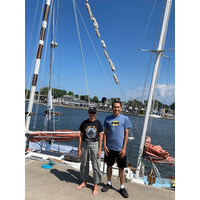 By: Brady Fergusson and Kate Schachter
We all know the Golden Rule, right? Do unto others as you would have them do unto you. It's a biblical verse that has become the name of a sailing vessel supported by Veterans for Peace, Quaker communities, and other organizations to draw attention to the dangers of nuclear development.
The boat was built in 1958 for the purpose of sailing into the Marshall Islands nuclear test zone to protest U.S. testing. It didn't make it because the boat and crew were detained and arrested by authorities in Hawaii. Veterans for Peace volunteers recovered and restored the boat years later and the boa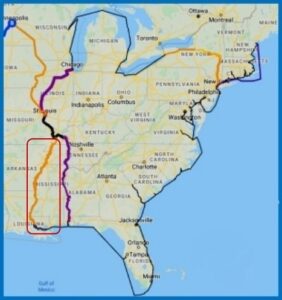 t and its crew are now in the midst of the Great Loop tour that started last year.
If you'd like an excellent half-hour overview of the history of the Golden Rule Project, view this April 16, 2023 YouTube video, with project manager Helen Jaccard, and crew members in Washington, D.C.
RPCV4EA Vice President Brady Fergusson had the chance
to step onboard the Golden Rule when it stopped in Rochester, NY for a few days in July on its way around the Great Loop. The Loop is a 6,000-mile nautical adventure that takes sailors around the U.S., east of the Mississippi River.
From July 28 through August 2, ship and crew will be in Buffalo, then continue with brief stops along the way to Cleveland (through August 8). Learn more about this project and follow the Golden Rule's sailing schedule through January 2024 at vfpgoldenruleproject.org:
Be sure to stay alert for a webinar that we expect to offer in October, in collaboration with Friends of Micronesia, the Golden Rule Project, and 1-2 RPCVs who served in the Marshall Islands and remain connected to the people affected by the U.S. nuclear testing program of the late 1950s.
---