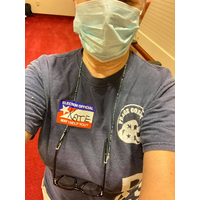 By Kate Schachter, Sarah Goodspeed, Brady Fergusson
Are you looking for ways to help Get Out The Vote – GOTV? How about GOT(E)V – Get Out The (Environment) Vote?
Here are four progressive steps to increase your knowledge about elections and voting on the way to become a Super (Environment) Voter, defined as someone who votes up and down the ballot every time, in every election, city/village, county, state and federal levels.
Step 1: Are you ready to vote?
Start by making sure your own house is in order. Are you registered? Do you know who is on the ballot? Do you know how to order an absentee ballot? Was your absentee ballot received and recorded? Wisconsin residents can one-stop check this type of detail at My Vote Wisconsin, but did you know that this type of state-managed voter detail is not available in every state in the country? Find the contact information for your city/village Clerk's office, or your County Clerk, or your State Board of Elections.
Are you familiar with the League of Conservation Voters Environmental Scorecard? This website provides scores for each Member of the U.S. House and Senate based on how they voted on environment-related bills. It can be an important component of an environmental voter's toolbox!
Step 2: Work locally
Once you are ready to vote, reach out to your friends and neighbors and encourage them to take action.
Be counted! Make sure you have submitted your census form or responded to someone who phoned or stopped by your home. If not, go to 2020census.gov and take care of it. This does not directly impact your vote, but it does impact your representation in Congress.
Can you help Power the Polls and sign up as a poll worker in your community? This can be challenging in today's pandemic world, but communities are doing their best to protect the health of the poll workers. Consider it.
Take an easy, non-confrontational step and send a letter to a voter using the system offered by Vote Forward. We recommend this special link based on advice from the Chesapeake Climate Action Network. CCAN is another RPCV-driven organization. Make it a family affair!
Step 3: GOT(E)V Nationwide
The Environmental Voter Project (EVP) is a non-partisan organization that uses sophisticated data analysis to identify environmentalists who don't vote (believe it or not, most environmentalists don't vote!), and turn them into Super Voters. They use texting or phone scripts managed by thousands of volunteers. Currently they are only in 12 states nationwide (Nevada, Arizona, Colorado, New Mexico, Georgia, Florida, Virginia, North Carolina, New Hampshire, Pennsylvania, Massachusetts, Maine - state residency is not required to volunteer) and will expand as capacity is built. Find out more about how EVP works and volunteer. Learn more about EVP in this Citizens' Climate Lobby (CCL) webinar by founder Nathaniel Stinnett.
Here is a similar national nonpartisan climate voter campaign targeted for younger voters with a vote multiplier tool to text friends and GOTV: We Are Enough!
On the other end of the age spectrum, Elders Climate Action (ECA) has an Elders Stand for Fair Elections (ESFE) project. Their nationwide initiative is working with the Environmental Voter Project.
350.org has chapters all over the country, many involved in GOTV actions. Find your local chapter here.
Step 4: Move Beyond the Elections
As an RPCV, do you want to work with other NPCA affiliate groups who are joining forces against voter suppression? The RPCVs of Washington DC have a National RPCV Racial Justice initiative that is working to protect the vote. Contact them!
Take part in voter protection actions from Fair Fight or Common Cause.
Advocate for Peace Corps, just because you should, and it's an easy first step to taking another advocacy leap on the environment. Learn about NPCA's strategies and reach out to your legislators. Connect with your local RPCV group's Advocacy Coordinator to help. Take it to DC, and walk the halls of Congress.
Our CCL Peace Corps Action Team (PCAT) is keeping an eye on the elections and looking ahead to post-election lobbying. CCL will hold a virtual conference on Saturday and Sunday, December 5-6, 2020. That will be followed by a week of lobby meetings with members of Congress, December 7-11. If you are interested in attending the conference or participating in lobby meetings to advocate for federal legislation on climate change, join the PCAT! For more information, contact team co-lead Brady Fergusson and check out our webpage.
That's it! You've become a solid gold advocate / activist at every level, at the pace you want, and the depth you can manage! Congratulations!
---