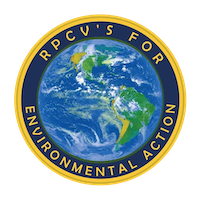 By Kate Schachter, President
It all started in June 2015 at Peace Corps Connect-Berkeley, when our table promoting green conference concepts of reducing our collective carbon footprint and taking personal responsibility for our individual footprint gained a lot of attention. We had names and emails of people supporting action. Jonathan Pearson, the Advocacy Director with the National Peace Corps Association (NPCA) said, "You should start an NPCA affiliate group!" He then helped us gather additional names of environmentalist RPCVs from a previous group that had folded, and thus the RPCVs for Environmental Action (RPCV4EA) was born. In August 2015, we held our first international Zoom meeting, applied for affiliate group status with NPCA, and began working toward productive outcomes.
Kate Schachter with Keith Honda, former Director of the Peace Corps Third Goal office
After six years of strategic planning, drafting a Constitution and Bylaws, forming a partnership with Citizen's Climate Lobby through the Peace Corps Action Team (PCAT), starting a Citizen's Climate Science Action team (CCSA), growing our membership and leadership, and holding educational webinars, we elected a Board. On September 2, 2021, we held our inaugural Board meeting. Read about out Board Members here.
Our Vision
A Peace Corps community that acts with passion for climate solutions and environmental well-being.
Why would we do this? It seems like a lot of work – all of it volunteer – to make this happen, right? Our Vision statement says it all. We care deeply about making an impact on global health – One Health, in fact. The One Health Triad is the recognition of the global intersection and interdependency of people, animals, and the environment – for mutual survival on our planet, perhaps in our universe.
Our Mission
We empower the Peace Corps community to act for climate solutions, to reverse environmental degradation, to promote sustainable development worldwide, and to advocate for action.
We took the extra step of formally incorporating our group as a non-profit because it will help us in many ways with recognition and fundraising. The next step is to take it to the level of a 501(c)3. We have a bank account, with some money in it that will help with expenses that we incur to manage a website and NPCA affiliation dues. Thank you to all who donated last winter to support Board member Paul Thompson's 40-4-40 Birkebeiner race which helped raise funds for RPCV4EA.
Now we welcome your help on the Leadership Team to expand our outreach.
Are you a journalist, talented storyteller, or photojournalist?

Do you have website development skills?

Do you have social media skills?

Would you like to find out more about the PCAT?

Would you like to find out more about the CCSA?

Do you have a particular One Health expertise that you would like to promote?
Please contact me (kate@rpcv4ea.org) if you have skills you can offer, to help break up the workload and engage the Peace Corps community. You are also welcome to join us for our monthly Board meetings.
I am pleased to introduce our hard-working Board members to you and our RPCV4EA community through this holiday newsletter, highlighting memories of celebrations during our Peace Corps service. Read on!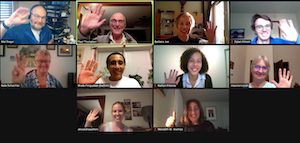 Inaugural Board Meeting on Zoom
For the planet,
Kate
---