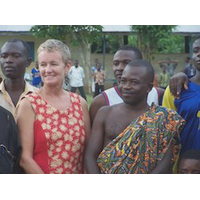 By Kate Schachter
In 1995 I fell in love with the entire continent of Africa, based on my two months in Kenya and Uganda. When I met people, I felt it was as person to person, a direct connection. It wasn't an encounter as man/woman, black/white, rich/poor, young/old. We were not sizing each other up. We met as equals, with honor and respect as individuals who live together in this world and care about our global neighbors and the planet. Nine years later, I found myself in Peace Corps Ghana, happily immersed in a new community. East Africa had paved the way for my West Africa experience.
I think about that experience a lot, as it sharpened my awareness of the entire continent of Africa. That is where I always begin when considering the challenges of Diversity, Equity and Inclusion. As I reflect on these words, I believe that Equity begins at the unit level, where I come together (virtually or in person) to work and play. Do I care about fair treatment and equal pay for my cohort group, my work partners, my friends – known and unknown? What do I need to do to first notice disparities around us, then act by changing my self?
And once I believe I do care and do change, do I also take the extra step to be Inclusive? Is everyone welcome at the decision table, are their opinions respected? As I look around the organization at a Zoom panel, how many faces of color do I see, how many different opinions, and are they respected and listened to with care and compassion? What needs to change to be inclusive to diversity? Am I more than aware, but also an active ally?
Last year the RPCVs for Environmental Action went through a thoughtful consideration of our five core values and you can view them online. I am grateful for what we have accomplished, and look forward to ensuring that they are meaningful and practiced. Now we all need to assure accountability.

Kate Schachter (Ghana 2004–07, Republic of Georgia 2016-17) is co-founder and group leader of RPCVs for Environmental Action.
---