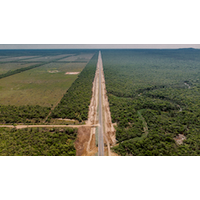 By Kate Schachter
How did the RPCVs for Environmental Action (RPCV4eA) kick off Earth Week? How else but in a partnership with Friends of Paraguay to feature the climate change work of today's Peace Corps Volunteers!
We screened the film Rostros del Rio, followed by a panel discussion. It was a labor of love to bring this to our RPCV community on April 16, 2023. Panelists included:
Crystal Mojica, Panel Moderator, RPCV Paraguay and Director at Spitfire Strategies

Alistair Kerwin, Program Specialist for the Community Environmental Conservation Sector in the Peace Corps Paraguay office, and RPCV Paraguay

Jeff Wong and Henry Maillet, Paraguay RPCVs and film directors/photojournalists on their Close of Service (COS) trip down the Paraguay River
All spoke thoughtfully yet passionately about the people, the land, and their experiences. We would love to be able to show it to you, but sadly, there is no recording of the panel discussion. We do encourage you to view (and share) the Rostros del Rio YouTube video of the documentary. Henry and Jeff, the RPCVs who directed and are featured in the film, are planning to use it to put on more fundraising events for Para la Tierra, a Peace Corps partner working with Peace Corps Volunteers (PCVs) and host communities throughout Paraguay. If you'd like to contact them to arrange a presentation, you can email Jeff or Henry.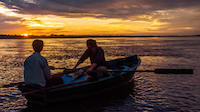 RPCVs Jeff and Henry rowing down the river in Paraguay
During the panel discussion, we heard from Dr. Smith from Para la Tierra about the work she is doing in communities across Paraguay, raising awareness about biodiversity strategies for living in harmony with the wildlife of the country. Youth Development projects also focus on the environment and the impact of climate change in this country. You may appreciate this TikTok-style video that Henry made of some of the youth talking about their concerns. A startling statistic shared was that the rate of deforestation in Paraguay is so high that it is predicted to be the first country to lose all its forest cover.
Take action for the U.S., Paraguay, and so many other countries
struggling with healthy forestry issues.
This is a grim warning for us in the U.S., too. Please consider attending the RPCV4EA May 10 Letters to the Editor workshop with its focus on the U.S. Congress FOREST Act to combat illegal global deforestation. Take action for the U.S., Paraguay, and so many other countries struggling with healthy forestry issues. As Congress attempts to cut critical environmental program spending, reach out to local or national newspapers as well as to your Congressional representatives to protect the FOREST Act and support a green environment that captures and reduces CO2.
As part of the Rostros del Rio event, we promoted a GoFundMe for Para la Tierra. Due to the generosity of the viewers at the Zoom event and to a matching grant of US $600, we were able to raise almost US $1,950 to help fund their work. Did you know that $600 (£484.72) will help them reforest an entire hectare of Atlantic Forest with their Mbya Guaraní partner community? Truth! If you'd like to add a donation, the fundraiser will be available for some additional amount of time. [Hint: the GoFundMe framework automatically adds an "optional" 15% "tip" to your donation. If you find this highly unusual as I did, select the "Enter custom tip" link and set it to zero.]
This was not an event relevant only for Paraguay volunteers! Peace Corps encourages all volunteers in our post-COVID world to take on secondary projects related to alleviating climate change and environmental degradation. We had a good look at how it is being applied in Paraguay and can expect all countries to share success stories.
We only have one earth.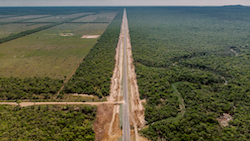 The CO2 level in the atmosphere the year I was born was 310.7 parts per million. Today (April 2023) it is 422.9, an increase of 112.2 ppm. The safe level of CO2 is 350 ppm. (Data source: co2levels.org/)
--------
Kate Schachter is one of the founding members and President of RPCV4EA. Kate served as a Peace Corps Volunteer in Ghana from 2004-2007, an NPCA Board member and Group Leaders Forum Coordinator from 2010-13, and a Peace Corps Response Volunteer in Georgia from 2016-2017. She has been active on the leadership team of the RPCVs of Wisconsin-Madison since 2007.
---