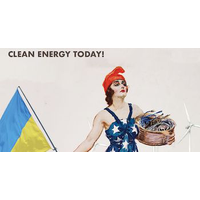 RPCV Meg Kinghorn (Kiribati 1987-89) advocates for greater energy independence in her local West Virginia newspaper. "We are all Ukrainians. Inspired by their courage, we can act on their behalf in a new kind of war effort. Instead of planting victory gardens as our grandparents did in WWII, we can install solar panels on our homes. We can drive less in fuel efficient cars. We can create a new future for ourselves and for people everywhere by becoming energy independent on clean fuels." Read her article here.

Last month the RPCV4EA Letter to the Editor Action Team urged an end to dependence on Russian fossil fuels.
The RPCV4EA Advocacy Team is also partnering with Citizen's Climate Lobby (CCL) on their Stand With Ukraine: Get Loud For Clean Energy campaign. Transitioning to clean energy will not only stabilize gas prices, create new jobs, clean our air and solve climate change, it will cut off Putin's main resource: oil money. Tell the President and Congress that you want a clean energy transition. Write letters to the editor like Meg Kinghorn! You can also join the CCL campaign by taking this 5-minute action on climate change and help reach the CCL goal of 40,000 messages sent!
One of the most important things any American can do to help Ukraine is to commit to clean energy and to let their elected officials know that we stand with Ukraine.
---