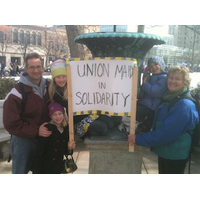 By Kate Schachter, RPCV4EA President
New years are a traditional time for reflecting on the past and looking forward to the future. I gave up making New Year Resolutions many years ago because I usually broke my own resolutions. I do, however, take time to reflect and plan.
This past week I completed a survey from an organization I'm closely connected to that asked questions about their sustainability program. They wanted to determine what respondents knew about the program, whether we engaged in specific sustainability initiatives in our own lives and how frequently, and how important these were to us. I was surprised at how basic the questions were, primarily picking the low-hanging fruit of energy conservation. For example, with responses to questions like: do you turn the tap water off when washing your hands (never, sometimes, usually, always); do you turn off the lights when you leave a room; do you take public transportation or bike/walk to school or work; do you recycle; do you compost; do you eat meatless meals; and more along the lines of individual responsibility for addressing conservation and climate change.
Though they were basic questions, it still got me thinking about the evolution of my own environmental actions. It wasn't exactly linear, but when I left my parent's home after high school, I adopted a country lifestyle of gardening and an organic, meat-free diet, inspired by Helen and Scott Nearing, Rachel Carson, and Frances Moore Lappé. Starting a family with my husband and two children brought urgency and expanded my awareness to energy consumption issues during the 70's during the first oil crisis and the fear of nuclear waste damage on the earth. Bit by bit, I moved from action to new levels of activism, from voting to demonstrating to lobbying legislators to bringing my voice public with Letters to the Editor.
About a month ago I finally picked up the latest in Paul Hawken's Drawdown series, Regeneration: Ending the climate crisis in one generation. We haven't ended it in my three generations (now with three grandchildren ages 8-20). I felt the urgency to make a bigger difference – more quickly. I'm looking forward to absorbing it, finding new connections and ways to take action.
Let's step up our actions a notch!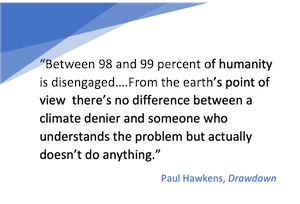 ---