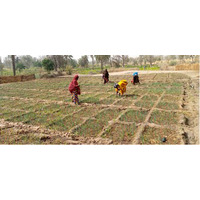 By Helene Dudley
The bad news is the multiple problems facing our planet – climate change, extreme poverty, food scarcity, mass migration to name a few. The good news is that one intervention addresses them all.
In empowering the entrepreneurial poor and grassroots organizations that serve them effectively, TCP Global sees the positive impact of regenerative agriculture on the environment, increases in food production and income, and reduced pressure to migrate.
TCP Global's dual mission is to provide affordable loans to micro-entrepreneurs and to strengthen effective grassroots organizations by establishing a steady revenue stream to fund their service projects. As it turns out, micro-loans are the catalyst for much more.

Potentiel Terre, a TCP Global partner managing thirty-three loan programs, teaches environmentally friendly agriculture techniques to conserve resources, increase production and improve family income while staving off food shortages in Niger.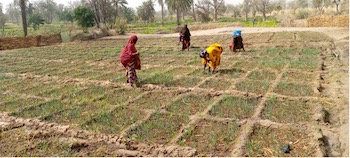 In under three years, Potentiel Terre issued over 2300 loans averaging $137 primarily for agriculture and animal husbandry, maintaining a 100% repayment rate and earning $65,000 for special projects like water filters and training workshops to provide economic opportunity in small villages throughout the country.
Leaders of 22 loan groups in Uganda formed the Rotary Club of Yumbe and adopted AchibaVillage as a service project, installing a bore hole, 43 latrines and tippy-tap hand-wash stations, providing water filters and testing all 612 villagers for malaria, then treating the 353 that tested positive. Women who experienced hunger just two years ago are now working "to help the less fortunate."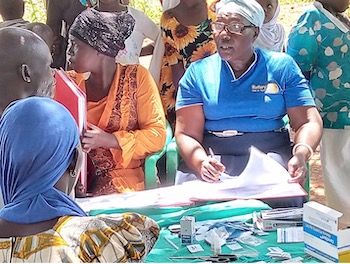 Our partners and our borrowers do not need us to teach them anything. All they need is resources to free themselves from abject poverty so they can apply what they know to improve the quality of life for their families and communities.
You can make a difference for underserved communities. Donations to TCP Global as an affiliate of the National Peace Corps Association will benefit NPCA (15%) and marginalized entrepreneurs (85%) and 100% of donations through the Rotary Club of Coconut Grove will be distributed as micro-loans to marginalized entrepreneurs. Check out our newsletters for pictures and stories about the TCP Global program.
---
Helene Dudley (RPCV Colombia, Albania/Slovakia) is an NPCA Board Emeritus and the Executive Director of TCP Global.
---