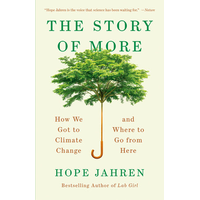 By Ellen Arnstein
I've never encountered a more appropriate and descriptive book subtitle: "how we got to climate change and where to go from here." Hope Jahren's book is deceptively simple – laying out the conditions and consequences of climate change. As we increase population, boost food production, and expand fossil fuel consumption, the Earth has responded with warming weather, rising sea levels, and species extinctions.
There is no judgement in this book. There is no partisanship. And perhaps most importantly, it is not terrifying or depressing*. It is just an extremely readable book assuming zero background knowledge without talking down to the reader. It should be required reading. Buy it for your friend who is overwhelmed by climate change, your friend who is curious about it, your friend who is doubtful that it exists.
It should be required reading.
Buy it for your friend who is overwhelmed by climate change,
your friend who is curious about it,
your friend who is doubtful that it exists.
Once you and all of your friends have finished The Story of More, I recommend moving on to The Weathermakers by Tim Flannery. Although not necessarily a page-turner, this book was well thought out, well written, and highly readable for anyone trying to understand the more scientific aspects of climate change. It is also a good example of how best to convey very complicated science concepts to a "lay" audience.
Advanced level readers can try out This Changes Everything: Capitalism versus Climate by Naomi Klein which explains how capitalism-based solutions for climate change won't work. Klein discusses free trade agreements, geoengineering, nonprofits in bed with fossil fuels, resistance movements, indigenous people's movements, and climate science. This book can be overwhelming and depressing but really tries to inspire the reader to act in moments of crisis (ie now) to make big societal changes.
I'll let you know how I feel about The Great Derangement by Amitav Ghosh when I finish it.

*Ok I found a paragraph on food waste depressing as Jahren asks the whys of "that half-eaten meal in the garbage -- why did we plow that field? Why did we plant those seeds, and water them, and fertilize the soil, and thwart the weed?...Why do we walk the aisles, examine, select, buy, slice, mash, season, and serve?...We can never get those hours back… When we cast food into the landfill, we are losing more than calories: we are throwing away one another's lives."
----
Ellen Arnstein was an Environmental Education volunteer in Bolivia from 2007-08. She is now a certified arborist working for a Pacific Northwest conservation district. In her spare time, she plays the ukulele poorly, runs slowly, and reads a ridiculous amount of books (mostly about trees).
---