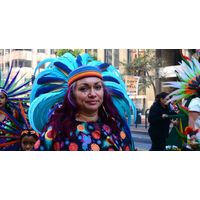 [This article by Pablo Linde was originally published online in El Pais.]
More than 900 marches in 100 countries have called for action against global warming.
Practice your Spanish here! The key quote from RPCV4EA team leader, Lila Holzman, is "We want to see action. We know that climate change is important and now is the time to act. Since national level politics won't step up, there are others that should, like companies and investors."
---
No es casualidad que San Francisco sea estos días el epicentro mundial de la lucha por el clima. Tres años después del histórico acuerdo de París para poner coto al calentamiento global, a dos de que entre en vigor y de que Estados Unidos lo abandone oficialmente, la Cumbre de Acción contra el Cambio Climático, que comienza la semana que viene, será un espaldarazo de la sociedad civil a los gobiernos para que se muevan en la dirección correcta. Y, ya de paso, un tirón de orejas al presidente Donald Trump en casa. Como aperitivo, este sábado más de 900 marchas en casi un centenar de países han reclamado un liderazgo real contra el calentamiento global.
Miles de personas procedentes de medio mundo se movilizaron en el corazón de San Francisco bajo el lema Levántate por el clima, los empleos y la justicia. Indígenas guardianes de los bosques amazónicos, nativos norteamericanos, abuelas preocupadas por el mundo que le dejan a sus nietos, jóvenes que se querellan contra la Administración, veganos, naturistas, partidos verdes estadounidenses y del extranjero y, sobre todo, muchos ciudadanos concernidos por el problema se sumaron a una marcha festiva que terminó junto al Ayuntamiento de la ciudad.
Trump nos pide que nos retiremos, nosotros contraatacamos; Hagamos América verde de nuevo; Hagamos la paz y no el cambio climático; Los combustibles fósiles nos están matando; No al fracking; El cambio climático es un problema racial; No a Trump, no al carbón. Solo son algunas de las decenas de consignas y cánticos que se leían y oían en la marcha de California.
"Ojalá Trump nos vea, pero tenemos que buscar soluciones que trasciendan a nuestro presidente, porque no se toma el problema muy en serio", explicaba Seneca Wolmen, de la organización californiana Amazon Watch. Lila Holzman, activista de los Cuerpos de Paz de EE UU, profundizaba en esta idea: "Esperamos ver acción. Casi todos sabemos que el cambio climático es importante y ahora es tiempo de hacer cosas. Si a nivel nacional la política no reacciona, hay otros que sí pueden hacerlo, así como las empresas y los inversores".
Precisamente, uno de los motivos de la cumbre, que se celebrará del 10 al 12 de septiembre, es unir a sociedad civil, empresas y gobiernos regionales y locales para que tomen su parte de responsabilidad, impulsen acciones y muestren lo que están haciendo para luchar contra el cambio climático. En una semana que estará llena de reuniones y anuncios, saldrán a la luz numerosos estudios que aportarán más datos científicos para hora de abordar el problema del calentamiento global; está previsto que grandes empresas hagan públicas medidas de calado, inversiones verdes; ciudades de todo el mundo compartirán sus logros y desafíos.
Los actores Harrison Ford y Alec Baldwin, el músico Rocky Dawuni, el exvicepresidente de Estados Unidos Al Gore, el exsecretario de Estado John Kerry y la conservacionista Jane Goodall serán algunas de las caras conocidas que se sumarán a este llamado a tomar acción por el clima.
---