By Kate Schachter
Musing over coffee and NPR morning stories about family holiday meal recipes, I found myself drifting back to feasts and celebrations in Peace Corps Georgia. There were so many opportunities to enjoy the hospitality of the people, starting with my host family in Kutaisi, to the Caucasus Mountains around Mestia in the northwest to work with the Transcaucasian Trail Project, the bed and breakfast I shared with my friend Sharon and driver Gaga in Lagodekhi almost to Azerbaijan in the northeast, and points in-between.
It didn't seem to matter if we were at a local restaurant, an upscale restaurant in Tbilisi, or a simple B&B in the mountains. Food, drink, conversation, and often singing and dancing were a part of any experience. Food was homegrown and homemade, from the bread to the relishes, main course and desserts. Wine was almost certainly from the family vineyard – most homes nurtured grapevines and there would be a cask of wine under the porch ready to tap into a gallon jug to share with guests.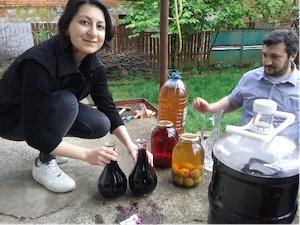 Tapping the family wine at the back porch in Kutaisi - 2016
Meanwhile, this sent me into a long morning drift, reflecting on the many ways that Georgia struggles with climate change (flooding from melting glaciers, land degradation, waste management) and some of what they are doing to make a difference. Live simply. Plant a little garden. Create opportunities for the next generations. Support families and neighbors through difficult times. Reduce Reuse Recycle. Celebrate heritage and community through music and dance. I offer my blog post from 2016 to explore the details of what that looked like during my service in Peace Corps Response/Georgia.
Environmentalism and addressing climate change are done by educating and outreach, person by person, generation to generation. I offer the faces of some of the people who care deeply about our global future.
As we enter the holiday season, this is my hope for the future, my early new years wish for the world: მშვიდობით ახლა! (Peace Now!)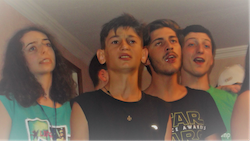 GREEN Camp Lagodekhi karaoke night 2016: We are the world - We are the future
Kate Schachter served as a Peace Corps Volunteer in Ghana from 2004-2007, an NPCA Board member and Group Leaders Forum Coordinator from 2010-13, and a Peace Corps Response Volunteer in Georgia from 2016-2017. She has been active on the leadership team of the RPCVs of Wisconsin-Madison since 2007. She is one of the founding members of the NPCA affiliate group, RPCVs for Environmental Action.
---