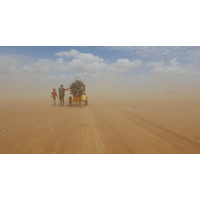 Compiled by Meredith Miller Vostrejs

Many of us are directly experiencing the intense heat waves caused by climate change. While hibernating indoors to escape the heat, we recommend a few videos to watch.

The 2018 TEDx Talk by Greta Thurnberg, The disarming case to act right now on climate change, is a powerful way to spend ten minutes of your time. Her clear, articulate voice brings the urgency of now to the forefront. Her talk concludes, "The one thing we need more than hope is action."

While Greta may be a household name, many other young activists from around the world are less well known globally. In a Global Citizen article about young climate activists in Africa, Greta gives a shout out to her peers: "I cannot stress how important it is that we listen to the African voices and tell the African stories…It's about time we pass over the mic." Learn from and listen to three young African climate activists in this Al Jazeera segment, where interviewer Femi Oki speaks with these "eco-warriors" and unveils their demands to curb the climate crisis, which disproportionately affects the African continent.

For a full-length film consider Human Flow, a movie by artist and activist Ai WeiWei. With beautiful imagery and personal stories from 23 countries, this movie captures the plight of human migration. With more than 65 million people displaced from their homes, many due to factors affected by climate change, Human Flow visually captures the largest human migration since World War II. There are several options to watch the movie from home. This is a great movie to watch in preparation for a climate displacement panel discussion RPCV4EA is co-sponsoring with the Peace Corps Community for Refugees during the Peace Corps Connect Conference on September 25th (stay tuned for details!).

Want to help host a movie screening for the RPCV4EA community? We have hosted film screenings in the past (Anote's Ark and Kiss the Ground). Please share your ideas with us by email here.
---