Event Details
JOIN US FOR ANOTE'S ARK, WITH Q&A PANEL
The Peace Corps Action Team (PCAT) of the Returned Peace Corps Volunteers for Environmental Action (RPCV4EA) are pleased to host a virtual screening of "Anote's Ark" in solidarity with the people of Kiribati on their 41st Independence Day.
We invite you to view the documentary in the comfort of your home, then participate in an online panel discussion moderated by Meg Kinghorn (RPCV Kiribati (1987-1989), with Mike Roman, Ph.D (RPCV Kiribati 2000-2002), and Brady Fergusson (RPCV Kiribati 2006-2008) . The virtual screening has a minimal charge of $5/person, which will be donated to the Rotary Club of Tarawa for women's employment projects.
ABOUT THE FILM
The Pacific Island nation of Kiribati (population: 100,000) is one of the most remote places on the planet, seemingly far-removed from the pressures of modern life. Yet it is one of the first countries that must confront the main existential dilemma of our time: imminent annihilation from sea-level rise. While Kiribati's President Anote Tong races to find a way to protect his nation's people and maintain their dignity, many Kiribati are already seeking safe harbour overseas. Set against the backdrop of international climate and human rights negotiations, Anote's struggle to save his nation is intertwined with the extraordinary fate of Tiemeri, a young mother of six, who fights to migrate her family to New Zealand. At stake is the survival of Tiemeri's family, the Kiribati people, and 4,000 years of Kiribati culture. View the trailer here.
MOVIE PRE-VIEW DETAILS
The movie is hosted on Vimeo. A link and password will be provided to registrants on July 10th. Watch it on your own or with friends anytime between July 10-12, then join us in the panel discussion on Zoom on July 12th at 7:30 pm EST.
LIVE CHAT OPTION AND Q&A PANEL
If you'd like to join us in a Watch Party, the Zoom channel will be open on July 12 starting at 6 pm EST. Watch the movie with us on Zoom, and add your thoughts or questions into the Chat screen. All participants will be muted while the movie is playing, but the chat feature will be open. The movie lasts 1 hour 17 minutes. There will be a 13-minute break at the end, and the panel discussion will begin at 7:30 pm EST. Make sure to have a ticket quantity of at least 1 if the "Purchase Tickets" button is not working!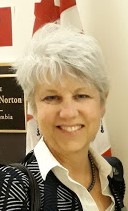 Panel Moderator: Meg Kinghorn
Meg Kinghorn joined Peace Corps to "get the travel bug out of her system". But after serving in Kiribati for two years (1987-1989), she decided to make a career out of international development. Thirty years and 75 countries later, she has no regrets. Now working as an independent consultant in civil society strengthening from her farm in West Virginia, Meg travels regularly to work with NGOs in Africa, Asia, and Eastern Europe. She holds a master's degree in Intercultural Management from the School for International Training. She can be contacted through www.megkinghorn.org.
---
Panel Participant: Dr. Michael Roman
Former Kiribati Peace Corps Volunteer (2000-2002), Fulbright Fellow, co-creator of the social media platform Humans of Kiribati, and author of When There was No Money received his Ph.D. from the Department of Anthropology at the University of Pittsburgh in 2014. His dissertation Migration, Transnationality, and Climate Change in the Republic of Kiribati, focused on the history and impacts of climate change on the I-Kiribati (Kiribati nationals) within and beyond the borders of the nation. His dissertation topic was turned into a 2018 Sundance selection Anote's Ark, by Matthieu Rytz. Mike's most recent film collaboration One Word, by Kameradistinnen Studio, highlights the Marshall Islands' fight for climate justice, and ultimately, survival. Collaborating with governments, international media, non-profit organizations, and citizens from around the world, he has spent the last 20 years raising global consciousness of our planet's climate crisis from the frontlines. He currently teaches at the University of Cincinnati.
---
Panel Participant: Brady Fergusson
Brady Fergusson is a climate change activist and advocate for climate change migrants. After witnessing the harmful impact of climate change in Kiribati during his Peace Corps service (2006-2008), Brady started raising awareness of challenges faced by Kiribati upon his return to the United States. He became more involved with climate change action after marching with I-Kiribati and other Pacific Climate Warriors at the front of the Peoples Climate March in New York City in 2014 (bonus points if you catch him in the background of a shot from the march in "Anote's Ark"). Since then, he has been an active volunteer with Citizens' Climate Lobby, Sierra Club, Rochester People's Climate Coalition, and RPCVs for Environmental Action. He continues to advocate for climate change migrants from Kiribati and around the world. Brady lives in Rochester, NY with his I-Kiribati wife (who he met while serving in the Peace Corps) and their two children.
WHO IS THE ROTARY CLUB OF TARAWA?
Rotary is where neighbors, friends, and problem-solvers share ideas, join leaders, and take action to create lasting change. Rotary Tarawa is a network of friends, leaders, and problem-solvers who see the need to unite and take action to create lasting change – across our communities and in ourselves. The international organization believes in a shared responsibility to act on persistent issues.
WHAT DOES THE ROTARY CLUB OF TARAWA DO?
Rotary Tarawa helps communities build a better life. The Club is a group of professionals, who use their skills and network to be of service to the community. Their activities range from hands on coastal clean up to vaccination programs.
WHAT PROJECTS ARE THEY WORKING ON?
They are focusing on developing relationships with NGOs and community groups to deliver large scale projects and fundraising.
Sew Easy

Community Toilet Builds

Delivery and Distribution of hospital donations

Running water to each household

Several more projects focused on improving sanitation, education, access to clean water, and peace)
HOW CAN YOU HELP?
To show support for Kiribati we have decided to help The Rotary Club of Tarawa fund two projects: Sew Easy and Community Toilet Builds. We appreciate all donations received and all of it will be going directly towards these two projects.
SEW EASY
Sew Easy partners with Sewaid International to train women in advanced sewing skills so that they can make money by sewing in order to provide for their families. The women receive ongoing support to access facilities and resources needed to sew.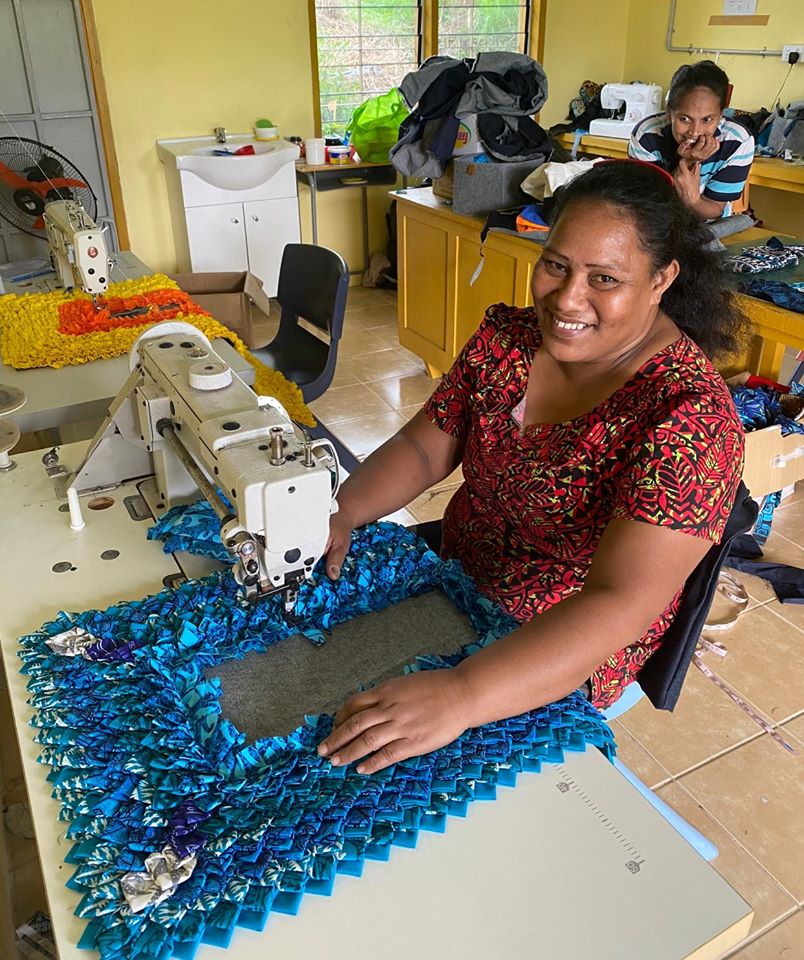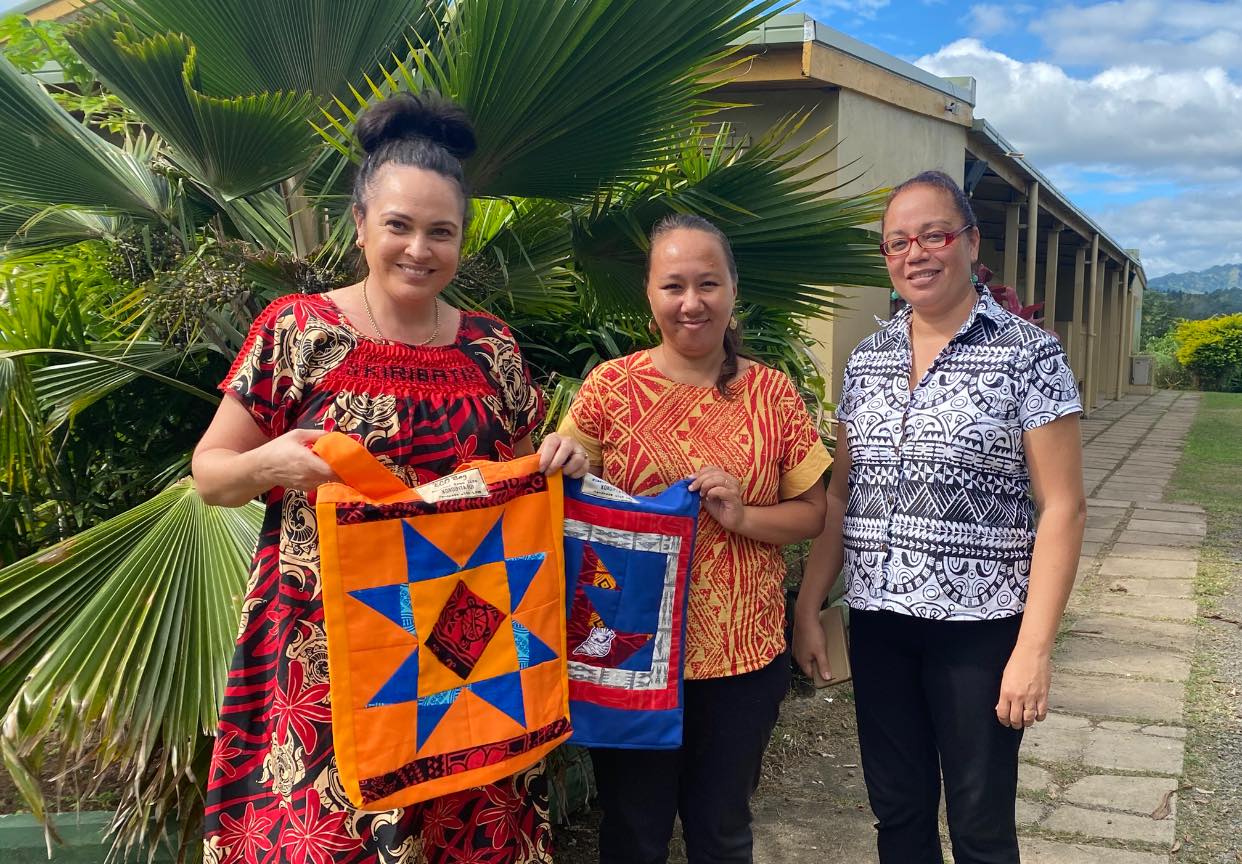 COMMUNITY TOILET BUILDS
This project builds toilets in communities to help with hygiene and community economic development. The Ueen Tabito community applied for this community project. A volleyball court is in front of their building which holds 3 toilets and 1 community shower for anyone in their community to use. They charge 30 cents to use the shower and 10 cents to use the toilet. Each family in the community takes care of the building on a rotating basis and receives the collected funds for their week.
"Since we've had this building, it seems the community has become stronger, and in many ways closer."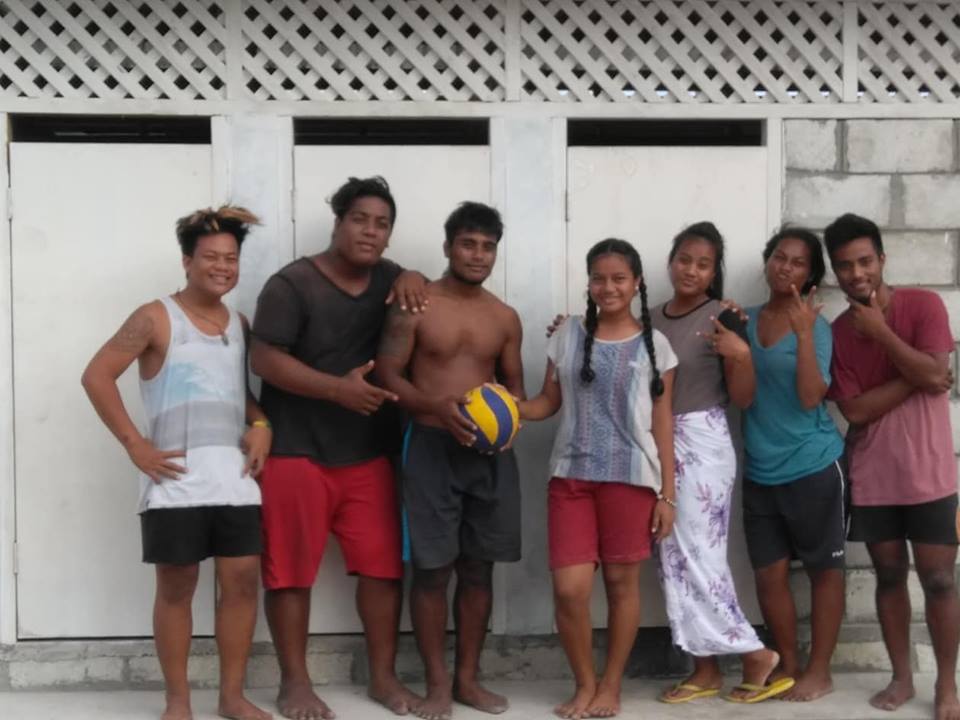 CONTACT INFO
If you have any questions please feel free to contact Kate Schachter at info@rpcv4ea.org or at 608-440-0674.