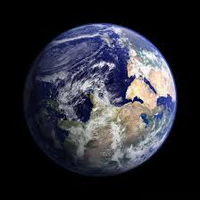 Earth Day 2021 Events
Join people around the world to celebrate Earth Day on April 22, 2021. The annual event started in 1970, and this year's theme is "Restore Our Earth." From raising awareness to taking action in your community, Earth Day is a great opportunity to recommit to making the world a better place with actions big or small, locally or globally.
How will you celebrate Earth Day? Check out your local opportunities, or join one of the virtual events below. Note event times vary according to location.
Climate Solutions Accelerator 22 Days of Climate Learning and Justice
You're invited to participate in Climate Solutions Accelerator's 22 Days of Learning and Action for Intersectional Climate Justice in Rochester, NY and Beyond. Virtual events, held every day from April 1-22, vary from Rochester specific to national significance. Events are free or a suggested donation of $40 for the entire series.
Below are some of the events; for the full list of 22 days visit this website. Thanks to Brady Fergusson, RPCV4EA Leadership Member and Director of Public Engagement at Climate Solutions Accelerator for sharing this opportunity with the RPCV4EA community.

Thursday, April 1 (Day 1)
Live Session, 5:30-7:00 p.m: Intentional Intersectional Climate Action
Featuring Daphany Sanchez, Kinetic Communities

Sunday, April 4 (Day 4)
History: The Birth of the Environmental Justice Movement

Thursday, April 22 (Day 22)
Live Session, 5:30-7:00 p.m.: The Time for Climate Justice is Now
Featuring Vic Barrett, Earth Guardians
Redlining and the Climate Crisis
Tuesday, April 6, 2021
9:00am PDT
Understanding structural racism and the climate crisis is key to shaping urban governance and the future of America's cities. The co-authors of a recent study on the correlation of redlined areas and the location of urban heat islands will discuss their participatory research on the spatial distribution of climate impacts, involving communities in measuring heat in cities. This webinar is part of the EPA's Environmental Justice and Systemic Racism Speaker Series. Register for this session here.
Info Session: Peace Corps Celebrates Earth Day
April 22, 2021 at 1:00 PM PST
Virtual event from San Jose State, CA
If you've always wanted to challenge yourself on an international playing field while making a difference on a grassroots level. The Peace Corps needs environment specialists to address conservation concerns and alternative energy issues in communities around the globe. Help improve a community's livelihood and develop sustainable solutions, while gaining global skills for your career. Join us at this environment-focused information session to learn about Volunteer experiences, ask questions about service, and gain tips to guide you through the application process. Event information and registration online here.
Local Climate Action Kit Kick Off
April 22, 2021 at 12:00pm Alaska/ 4:00pm ET
Join Alaska's Cook Inletkeeper for a virtual kick-off event for their Local Climate Action Kit, a how-to guide for starting volunteer-led, local-focused projects to respond to climate change. RPCV Ben Boettger (Mongolia 2010-2012) helped develop the Action Kit, which may be especially valuable to RPCVs since it was inspired in part by the Peace Corps idea of finding projects that a community can truly connect to. Registration online here.
Earth Day Story Slam: Reflections on Sustainability in Peace Corps
April 23, 2021 at 3:00 PM - 4:00 PM (Mountain Time)
Virtual event from Arizona State University – Tempe
Honor the Earth Day and join us to learn about the challenging, rewarding and inspirational moments from a panel of returned Peace Corps Volunteers who will talk about sustainability. Ask questions about service and gain tips to guide you through the application process. Note: This virtual event will be held on Zoom. Please register to ensure that you receive access to join the event. Event information and registration online here.
Earth Justice for All- Why Overpopulation Matters
Sunday, April 25, 2021 at 4:00pm CDT
Join Minnesota RPCVs and welcome our guest speaker Dr. Karen Schragg to discuss the intersection of Climate Change and Overpopulation.

RPCV4EA Writing Letters to the Editor Action Group
Tuesday, April 27, 2021
5:00pm PST/ 7:00pm CT/ 8:00pm EST
You're invited to join RPCV4EA's Letters to the Editor (LTE) monthly action meetings! These meeting are a time for RPCVs to come together to write and edit LTE, an important tool for motivating legislators to take action on climate issues. Meetings are once a month, on the fourth Tuesday. Anyone interested in attending can register using this link. Learn more about writing LTE, including a sample letter and tips, here. For inspiration read RPCV4EA LTE Lead Dylan Hinson's LTE that was just published in Ashland Tidings here, and RPCV4EA co-founder Kate Schachter's LTE that was published in the NY Times here.
RPCV4EA Invitation to Submit Your Climate Story
Can you think of a time you witnessed climate change? It could be rising sea levels in your village or droughts in your home back in the US. We'd love to hear about it! Review our frequently asked and guiding questions, write about your personal experience with climate change, and submit it to the RPCV4EA Climate Story portal in honor of Earth Day. Your personal narrative humanizes climate change, and invoke a call to action that science and data may not be able to do.
10 Ways to Take Action From Home
The California Climate Action Corps shares simple steps you can do right now, from home, to make a huge difference. To learn more about the California Climate Action Corps read RPCV4EA's Q&A article with the inaugural Director Kif Scheuer online here.
---