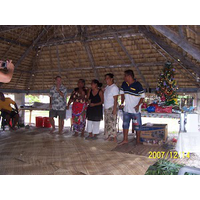 Brady Ferguson, Kiribati 2006-2008
I remember my host brother in Kiribati told me that on New Year's Eve kids go house to house singing when the clock strikes twelve midnight to welcome the new year and people give them crackers or biscuits when they come to their house. So I bought some biscuits and lit a lantern and waited… and waited… and waited… and my brother and the other kids never came so I went to sleep around 1am. The next morning, I asked him what happened, and he said he went to a friend's house last night and fell asleep there. I guess that's one of those some people do some people don't traditions -maybe like Christmas Caroling in the US. I've been caroling before, but it's been years. I appreciated him teaching me about this tradition, but just wished he would have told me he wasn't actually partaking that year. [Photo: Peace Corps office staff at a Christmas celebration we had]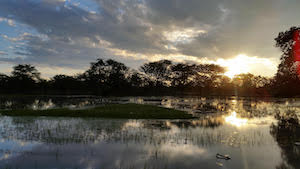 Dylan Hinson, Namibia 2016-2018
Christmas in Namibia, like every day in Namibia, is stiflingly hot. Church service was at midnight. The first summer rain had just come through a few days ago, so the termites had sprouted wings and flew about the church's fluorescent lights. The sermon was exceptionally long this night. Sweaty singing while pulling bugs out of our hair hours past bedtime. I haven't really done a Christmas that way since.
Barbara Jue, Moldova 2013-2015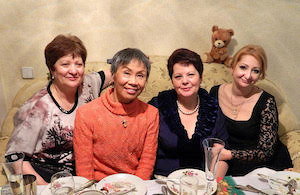 I recall my first New Year's Eve at my host mother's apartment building. Much eating and drinking were the main activity starting at 10 PM, once in a while watching the TV as a gala performance was being staged in Moscow. Curious that we had to tune into Putin's midnight speech welcoming in the New Year when Moscow is 2 time zones ahead of Moldova! Two hours later, the President of Moldova Nicolae Timofti came on the air and expressed his salutations and hopes for 2014, and we of course toasted again! [Photo: Me with my host "mom" Emilia (to the right in the photo), her aunt Nina, and her cousin Carolina. We're sitting in front of the food-laden table for our New Year's masa (feast)]
Mike Roman, Kiribati 2000-2002
Piñatas were as foreign to Kiribati as I was to fish. That being the case, I found this a great opportunity to teach them about my Mexican background. With a punching balloon, old Newsweeks, and some extra time on my hands, I decided on piñata making. A week before my little sister and I started making the piñata. We mixed flour, glue, and water to make the mix. After demonstrating how to apply the paper-Mache, I left to find more Newsweeks. Having constructed piñatas from a young age, I knew the right amount of paper-Mache was crucial. Too little and the piñata would break with the first strike, too much, and it wouldn't break at all. Finished layering the balloon, she placed it under the sun to dry, and we began decorating it the following day.
When I returned from my run, my host father was sitting next to the piñata, waiting to carry it to the celebration with me. Thinking it was an American tradition, like Christmas trees and snowmen, its uniqueness added to the celebration. Everyone, including the elders, tried to break the piñata, but it wouldn't bust. My little sister applied so much paper-Mache that it became indestructible. After everyone had a turn or two, my host father and I stood to take our shots. Releasing it from the rope, we grabbed opposite ends of the piñata and pulled. Money, toys, and candy flew into the air. Playfully pushing each other out of the way, young and old alike dove for the fallen treasures. Laughing at the commotion below, a lollipop flew into my host father's overgrown hair. Smiling from ear to ear, he pulled it out and handed it to me, "Merry Christmas, Mike."
After the mess was cleaned, food was blessed. Knowing most had come from the previous night, my best friend's wife reached into a white bucket and pulled out a giant cold orange. "Merry Christmas, Mike."
I didn't know where the bucket came from, and honestly, I didn't care. This may have been the only orange on the island, and it was given to me. I peeled the orange, thinking of the other place I called home. My other family, enjoying presents and snow. My baby nephew would be celebrating his second Christmas. Mentally and physically, I was so far from that life. Tamana was now my home, and I loved it with all my heart.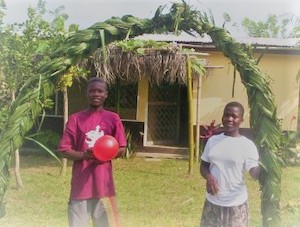 Kate Schachter, Ghana from 2004-2007 and Georgia 2016-2017
From 2004-2007 I served in Brekumanso in the Eastern Region of Ghana, about 80 km north of Accra. A small village of 2000 people, it had 6 Christian churches and a mosque. Religion in all forms was of keen interest, and cultures merged. One day before Christmas I came home from a trip to visit the farmers I was working with to find that my "small boy" and "small girl" -- Solomon and Alice Amuzu, my helpers in all things -- had created this palm thatch-braided Christmas tree as an entrance to my house. The next trip to the market town I bought candies and small toys to hang from the arch, for children -- and a few adults -- to take as they entered my home space.
Mel Siegel, Ghana 1962-1964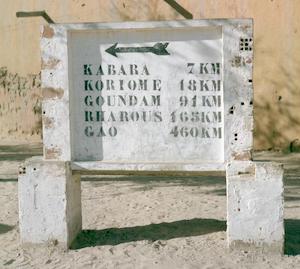 During a holiday school break I travelled with several fellow PCVs by lorry, river boat, and bus from my teaching post in Accra (Ghana 1962-1964) through Burkina Faso (then Upper Volta) and Mali, from Mopti to Timbuktu to Gao to Niamey (Niger), then home through northern Benin (then Dahomey) and Togo. In Gao there was no room at the inn, but kind missionaries let us sleep in a shed with straw on the ground and some goats and a donkey. So there you have the story of how I spent Christmas Eve 1962 in a manger near a river at the edge of a desert with stars in the equatorial sky twinkling through a thatched roof.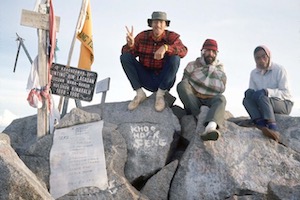 Paul Thompson, Malaysia 1971-1973
My first Xmas in Malaysia (1971) I was in training in Penang, West Malaysia and had just learned that I was to be posted in Sabah, North Borneo to teach Biology and Health Science. My family sent me a Minnesota Viking Poncho to keep me dry during the monsoon rains and I used it while climbing Mt Kinabalu (highest point in SE Asia 13,455 ft.) a few times. [Photo: Paul on top on Mt Kinabalu 1971 with Bob Fearn (RPCV) and local guide.]
Meredith Miller Vostrejs, St, Vincent & Grenadines, 1995-1997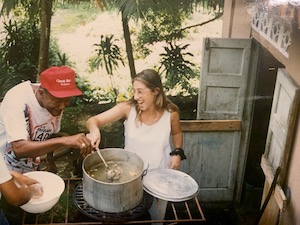 My memories of the holidays in Saint Vincent and the Grenadines mirror my memories of Peace Corps in general: warm, inviting people and delicious food. While people in my community were friendly and spirited throughout the year, the holidays turned up the socializing and cooking to a new level. It's hard for me to remember specifics from 25 years ago, but a common theme was rum! Christmas was the time to enjoy Black Cake, a dense cake made with lots of dried fruit and soaked for weeks in rum. It is deceiving- it looks like chocolate cake but one bite hints at the alcohol therein. Homes were open to visitors and people made the rounds, chatting people up, singing, eating, and drinking holiday favorites. On Boxing Day, December 26, I was one of the only women traveling with my (now husband), a few other PCVs, and local friends in the back of a pickup truck visiting different villages and stopping in rum shops along the way. I remember lots of laughs and jokes. I miss the joviality, carefree, fun days hosted by my Caribbean friends. [Photo:Learning how to cook river lobster boiling from a great friend]
HAPPY HOLIDAYS FROM THE RPCV4EA BOARD TO YOU AND YOURS, AT HOME AND AROUND THE WORLD!
---