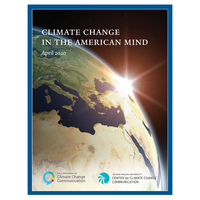 This was first published online by the Yale Program on Climate Change Communication on May 19, 2020
---
I find this to be a survey of particular interest, that proves the point on a broader scale of the National Peace Corps Association Global Issues Survey conducted in January - February, 2020. As we know, these results showed 62% of respondents felt Climate Change was the #1 issue facing the world, with the next three concerns at 28%.
From the introduction to the Yale Program on Climate Change Communication:
"Our latest national survey finds that, in the midst of the COVID-19 epidemic, American public opinion about climate change has remained steady and, in some cases, reached all-time highs. For example, Americans' understanding that climate change is happening has tied the prior all-time high, and public understanding that global warming is human-caused has reached an all-time high. The report includes many other interesting findings, including how often Americans hear and talk about global warming."
This survey was conducted during early April 2020, at a time when people sheltering at home due to COVID-19 was at a high. The Executive Summary of suggests that public engagement in the issue of climate change remains at or near historic high levels. We are increasingly worried about global warming and global health.
Download the full report here...
---