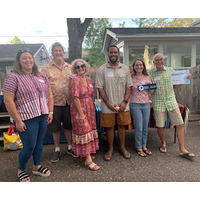 Cover photo: NPCA President Glenn Blumhorst and wife Cathy visited volunteers in Minnesota who raised funds to help combat climate change and promote national unity.
On a recent visit to the Twin Cities in Minnesota, National Peace Corps Association (NPCA) President Glenn Blumhorst thanked volunteers who raised $35,000 to help combat climate change, and urged more volunteers to join the effort.
He spoke with members of the Minnesota Returned Peace Corps Volunteers (MNRPCVs) at an early August gathering hosted at the home of MNRPCV Paul Thompson. Earlier this year, Thompson raised more than $35,000 during his 40th Birkebeiner cross-country ski race to donate to four nonprofit groups: three fighting climate change, and one reducing political polarization.
Blumhorst suggested that helping combat climate change be one of the top priorities of former volunteers who belong to NPCA affiliate groups. You can do that by joining Returned Peace Corps Volunteers for Environmental Action (RPCV4EA), one of four nonprofit organizations that received equal shares of funds Thompson raised.
Also present at the gathering were volunteers who helped Thompson organize his fundraising efforts, and members from each of the three other nonprofit organization recipients:
Citizens Climate Lobby, which focuses on national policies to address climate change;
Cool Planet Skiers, founded by Thompson to encourage outdoor athletes to care for the environment;
Braver Angels, which aims to restore civic trust and dialogue between the left and right.
Donors who made contributions of more than $40 won copies of the Greenhouse Game, designed to help players find solutions and eliminate pollution. Game creator Alix Dvorak, of Minneapolis, also helped Thompson with his campaign and attended the August event.
---