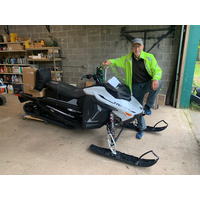 By Paul Thompson
Got a passion in life and climate change keeps interfering with it?
Paul Thompson, RPCV4EA board member, decided to do something about it.
Paul has been cross country skiing ever since he returned from his Peace Corps experience in Malaysian Borneo in 1971-73. For more than 4 decades Paul has been skiing the iconic American Birkebeiner Ski Marathon in NW Wisconsin. The race began in 1973 while Paul was teaching biology in Kennigau, Sabah, in East Malaysia so he missed the first six races until the Birkie bug bit him in 1979. Now this international ski festival is part of the World Loppet Tour, draws 13,000 skiers of all ages and abilities from Olympic champions to 75 year old recreational skiers like Paul.
So what's the problem? The Birkie has been cancelled twice in the last 23 years from a 10 inch rain storm and lack of snow. Winter temps and precipitation are unpredictable and ski races are often dependent on making snow….lots of water, electricity and additives, all measures not climate friendly.
Enter Jessie Diggins (MN Olympic Champion and Protect Our Winters board member) and other top skiers that are in lead groups being filmed behind gas powered snowmobiles. They hate it.
Jessie says "It's bad for my lungs and bad for the planet" So how can these ski races and running marathons get their video without gassing their top athletes?
Seemed pretty obvious to Paul. Tap into the growing EV market of electric vehicles. But who makes EV snowmobiles? A quick search on google shows one, Taiga Motors in Montreal Canada, the makers of the Nomad snowmobile and the Orca Jet Ski.
With a $21,000 base price plus a level 2 charger, storage cover, trailer cover, the Nomads aren't cheap. Paul brought this $25,000 price tag to his Birchleggings Club (BLC) ( skiers who have completed 20 + Birkebeiners) board and they said 'go for it'. With the help of a few high-level donors and passionate contributors, the BLC had the funds and placed the order for the Nomad EV sled within a year.
Because Taiga is developing their network of service providers, Paul and fellow board member Ralph Bovard had to travel to Rutland VT in Ralph's 20 year old SUV with a trailer hitch to pick up the Nomad. While at Central Vermont Motorcycles they were part of a media conference promoting the Birkie, Taiga, Citizens' Climate Lobby and the transition to perhaps preserving winter for future generations one vehicle at a time.
The return trip through a low traffic Canadian route got the Nomad to the Birkie Annual meeting on August 12th where a curious Birkie trail crew and staff waited to make sure this machine could "cut the mustard" on the hilly and long (55 km) Birkie trail. We will find out in November when the snow flies, but the folks at Taiga know, this machine will go 80-100 km especially when driven at a skiers race pace.
Just like in life, go slow and together to go far. Climate Change is providing humanity with the ultimate question. Can we work together to solve this biggest of puzzles?
At the Birkie this year one small solution will be witnessed by thousands of skiers and spectators. What's your passion for change? Go slow and make it happen.
---