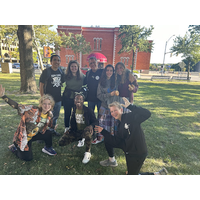 On September 15 and 17, 2023 millions of people around the world took to the streets to demand an end to the era of fossil fuels! There were 700 actions in 65 countries that weekend! Returned Peace Corps Volunteers were some of those marching, including RPCV4EA Vice President Brady Fergusson, who helped organize a march in Rochester, NY.
As Director of Public Engagement with the Climate Solutions Accelerator of the Genesee-Finger Lakes Region, Brady convened an organizing committee for the march in the spring of 2023. Members of the committee represented organizations including the Sunrise Movement, Citizens' Climate Lobby, NY Renews, and the Rochester Youth Climate Leaders. It was an intergenerational group that included high school students, college students, a middle aged professional, and a semi-retiree; ages ranged from 14 to 59. Because of the intergenerational injustice of climate change and its impact, the organizers believed it was important to have an intergenerational committee.
The march started Friday afternoon (9/15) at Rochester City Hall, then proceeded to the Monroe County headquarters, and finished at Washington Square Park. There were speakers at each of the stops along the route, including the Vice President of Rochester City Council, a New York State Assemblymember, and representatives from several of the twenty-plus organizations participating in the march. Sunrise and RYCL members led songs and chants as about 250 marchers walked through downtown Rochester. Kids played tambourines and homemade instruments, people carried signs, and there was even a bagpiper!
The march organizers also felt it was important to use the event as a way to get more people involved with continuing action on climate change. They did not want it to be a one-and-done event. So they planned an organizational fair to take place in the downtown Rochester park at the end of the march. More than ten organizations had tables and spoke to marchers about how they can stay involved with climate action moving forward. The fair also included food donated by local bakeries and stores, as well as live music performed by local musicians. It was a fun way to end the event!
---