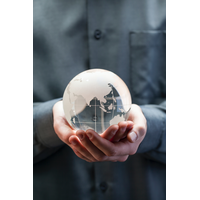 Recent Progress on Strategic Plan
By: Mike Kiernan, NPCA Consultant
The National Peace Corps Association (NPCA) and Returned Peace Corps Volunteers for Environmental Action (RPCV4EA) have worked closely together this year to expand the capacity of RPCV4EA and make it the go-to resource on climate change for the Peace Corps community.
Since January, we have increased membership by 50 percent and welcomed new RPCV members to manage our website, help with social media, recruit new members, produce a monthly newsletter and lead advocacy efforts. In addition, RPCV4EA also has made important progress in developing a strategic plan to advance the issue of climate change among RPCVs that reflects the values and perspectives of the Peace Corps community.
After a series of four forums of about 10 participants each between May 11 – May 21 to get further input, a Town Hall Meeting on Climate Change and Social Action was set for June 15. More than 50 RPCVs from around the country reviewed and voted on a proposed goal and key objectives for the climate change action campaign. In a July 6 Zoom meeting, 14 members of RPCV4EA attended a 90-minute strategic planning session to review the objectives and develop more than 30 different suggested activities to meet the objectives. The planning process will continue into August as the objectives are further refined. Here is the current iteration of RPCV4EA's goal and major objectives.
Main Goal: Engage the RPCV community in applying its unique skills, connections and lifelong commitment to service to address the existential threat of climate change.
Four Objectives:
Education & Outreach: Develop a shared understanding within the Peace Corps community of the impact of climate change on other major global issues including global health, racial injustice, mass migrations, access to clean water, women's empowerment and girls' education, food security, extreme poverty and other causes of concern to the Peace Corps community – causes that many individual RPCVs and NPCA affiliates are already working to address.
Advocacy: Increase the capacity of NPCA's affiliates and their interested members to engage in effective community-based advocacy on climate change and other issues of concern.
Partnerships: Increase recognition of NPCA and its affiliate groups by the climate change community and its activists of the Peace Corps community as a strong collaborative ally for changing attitudes, policies and practices related to climate change.
Resource Development: Strengthen the role of RPCV4EA as the go-to resource for the Peace Corps Community on climate change.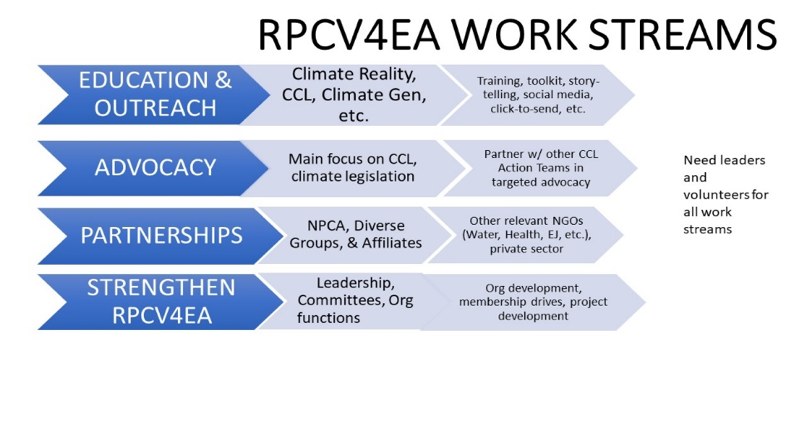 ---