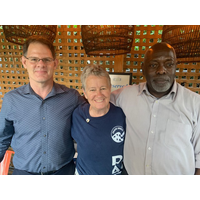 By Michael Roman and Kate Schachter
The Citizens' Climate Lobby (CCL) conference was the first in-person event since 2019 and the start of the pandemic. The 600 or so people who attended (compared to 1500 or more who previously attended) made connections and engaged in keynote speeches and workshops, while those who opted to stay home were given ample opportunity to participate through recorded sessions. If you missed it, view the 2022 Conference YouTube playlist here to pick and choose topics of special interest.
Daily COVID tests were strongly recommended for participation, and K95 masks (provided) were required while indoors at the Omni Shoreham building. For those holding in-person lobby meetings on Capitol Hill, congressional building entry was limited and complicated. The overall feel of the conference was different. The organization, known for being laser-focused on one piece of legislation seemed lost in its tracks. Still, the opening panel, entitled "Finding CCL's Next Climate Policies," set the tone for the conference with a poetry video welcome from National Youth Poet Laureate Amanda Gorman. After lobbying for more than a decade on the same bill, it seemed the momentum of its bipartisan movement through Congress had stalled, yet carbon fee language and acceptance of it as a proven idea has been incorporated into many pieces of both Republican and Democrat legislation.
By CCL standards, it was the most diverse yet, and policy-wise, inclusive. CCL is widening its portfolio to include nature-based (beginning with deforestation and tree equity) and clean energy ("electrify everything") solutions. While the details are still being hashed out, more specific details will be forthcoming in the relatively near future.
The ambiguous lobby meeting direction allowed the Peace Corps Action Team to advocate for H.R.2826 & S.1335, "The Global Climate Change Resilience Strategy, and Climate-Displaced Persons Act," known as CDPA. Conference attendees who visited our action table walked away with Talking Points and a one-page leave-behind for their meetings with Congress. The bill was discussed in OH-01, OH-02, WI-02, and NY-07 meetings. It is gaining acceptance by CCL chapters in Madison, Cincinnati, and Rochester, and we welcome invitations to speak at local chapter meetings. Contact Brady Fergusson or Michael Roman, co-chairs of our Peace Corps Action Team (PCAT) to arrange a speaker. If you are an internal advocate for protection and support of "climate refugees," a term that does not currently exist in legislative policy, we want to talk with your group!
After the conference, RPCV4EA members met with representatives from the National Peace Corps Association (NPCA) and visited their future home at Peace Corps Place in the NoMa district of DC (see photo below). We walked a few blocks to Peace Corps Headquarters for another photo op, then two more blocks to the Wunder Garten, where we joined Peace Corps staff to discuss future opportunities for partnerships with environmentally focused volunteers in the field and environmentally concerned returned volunteers at home.
To stay informed about the primary and secondary CCL tasks that our Peace Corps Action Team (PCAT) will take, if you haven't already, please join our CCL PCAT, or follow our work on our website.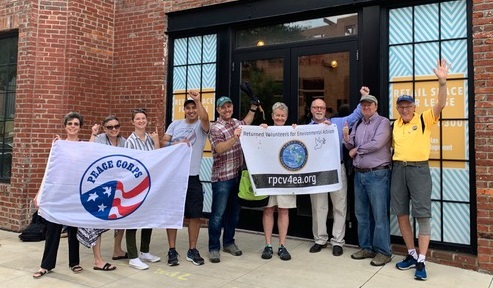 At Peace Corps Place with NPCA staff and Board members: Evelyn Ganzglass, Jodi Hammer, Ari Richard, Mike Roman, Dan Baker, Kate Schachter, Jed Meline, Jonathan Pearson, and Paul Thompson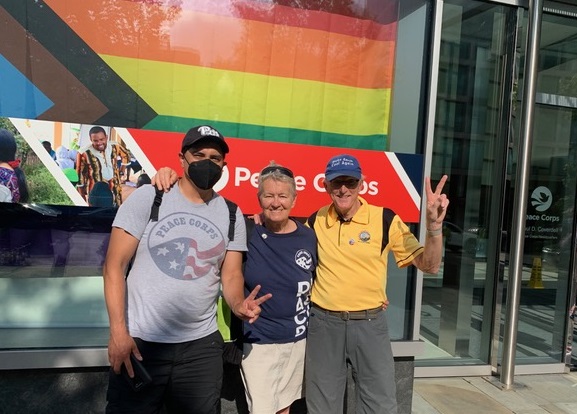 At Peace Corps Headquarters: Mike Roman, Kate Schachter, and Paul Thompson
---