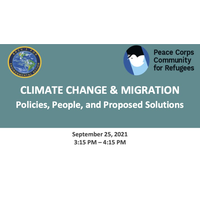 Did you miss the panel on climate change and migration during the 60th Peace Corps Connect Conference? You can watch it online here. Watch for opportunities to get engaged and take action at the end of the video.
Nearly 80 million people worldwide have been forced to flee their homes. The effects of climate change and climate induced crises have and will continue to impact displacement. Hear a discussion on the global situation and how we got here, the lived experiences of asylum seekers, and how RPCVs are responding.
Panel co-hosted by Returned Peace Corps Volunteers for Environmental Action (RPCV4EA) and the Peace Corps Community for Refugees (PCCR).
Moderated by Meg Kinghorn | Consultant on strengthening civil society; Peace Corps Volunteer in Kiribati 1987–89.
PANELISTS:
Dave Harden | Managing Director of the Georgetown Strategy Group; Peace Corps Volunteer in Botswana 1984–86
Erica Peery | Senior Coordinator for Information Systems, International Rescue Committee | Peace Corps Volunteer in Senegal 2014–16
Elliott Powell | Executive Director, Sustainable Harvest International | Peace Corps Volunteer in Nicaragua 2006–08
Ben Boettger | Reporter and editor for the Alaska Energy Transparency Project; Peace Corps Volunteer in Mongolia 2010–12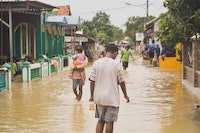 All of the 60th Anniversary PCC conference session videos can be found online here.
---